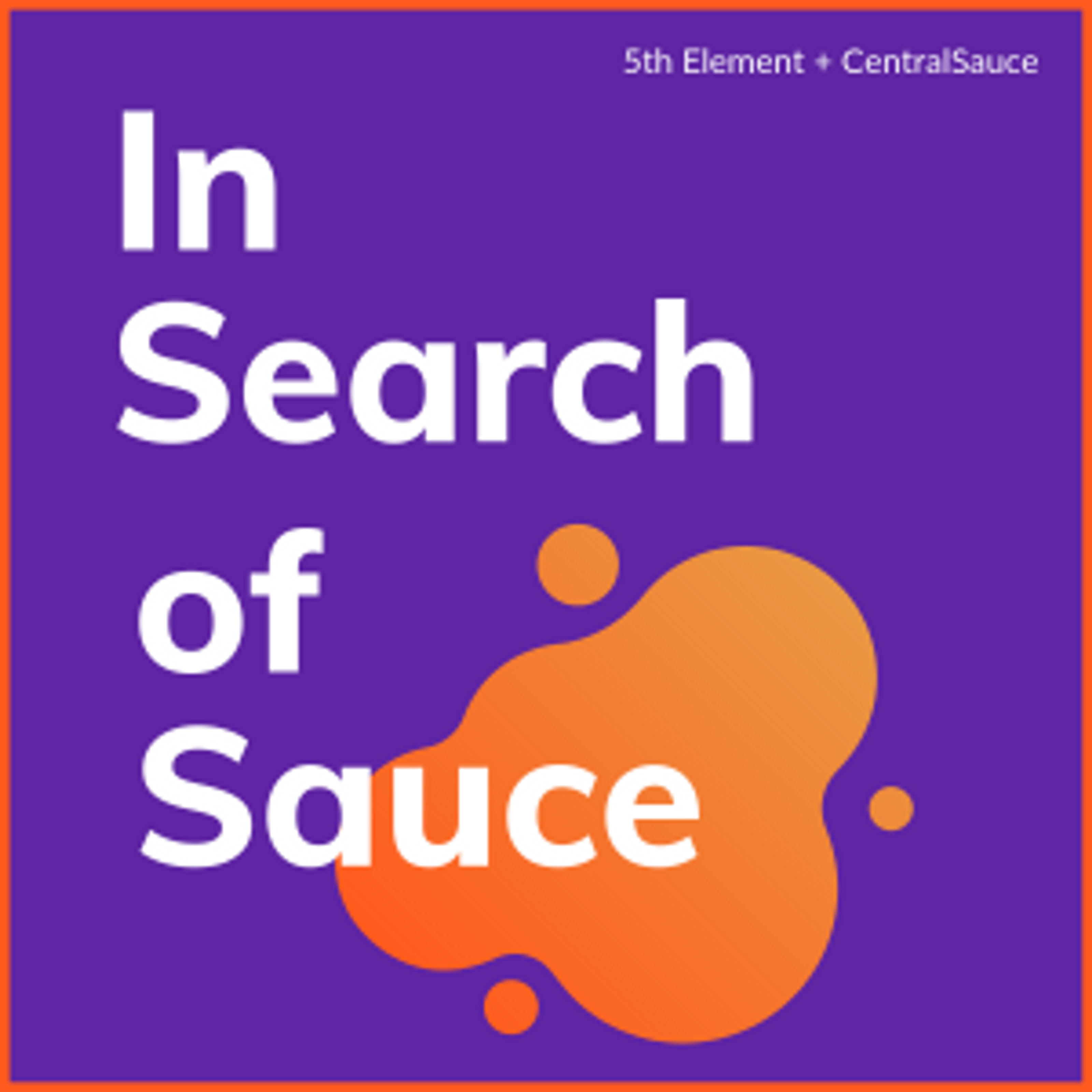 On this episode we bring an interview with Open Mike Eagle about balancing the evolving demands of a creative lifestyle during the pandemic, a beautifully written symposium on the unjust classification of Southern rap, and one of the latest episodes of Hot Ones featuring T-Pain. Streaming everywhere you find podcasts. Don't forget to subscribe on Spotify, leave us a review on Apple Podcasts and tell your friends!
In Search of Sauce is dedicated to combating the idea that music journalism is dead or dying. We sift through the click bait to bring you the writing, reporting and thoughts of some of the brightest minds in music and journalism with a side dish of our own ideas and opinions. We tell you what makes each piece exceptional and drive conversations centered on their thought provoking content.
This podcast is a collaboration between CentralSauce and The 5th Element podcast network. If you're a writer and would like the chance to be featured on the podcast use the option to contact me from this site's homepage and send us your recent writing.
On This Episode:
What I've been listening to:
On being nimble while riding out uncertainty [The Creative Independent Aug 10, 2020] By Christina Lee
Read the conversation with Open Mike Eagle
I love when Ryan brings my attention to content on the underground rappers he loves. It always deepens the value of music I enjoy and makes it even more prominent. This conversation was no exception. Right off the bat I was amazed by just how much Open Mike Eagle does. Rapper, podcaster, talk show host, and more, somehow he's able to balance all of these outlets while operating entirely as his own label. Financially he's taken the independent artist model to the next level. What really made me sink into this piece though, is the relatability of his hustle. Between the many creative projects I always seem to be juggling, quite often someone at CentralSauce will be waiting for me to edit one of their stories. Before getting the Mike Eagle perspective, I often considered this to be a personal failing or lack of preparation on my part. To hear someone who is excelling in the precarious balance have many of the same moments helped me understand that's normal.
The South Is Rap's Past, Present And Future [NPR Aug 3, 2020] By Briana Younger
Miki prefaced our discussion of this piece by saying it's his favorite we've covered on the podcast to date. While I still personally give that position to Andy Cush's Pitchfork article on streaming pay (episode 13), I very much see where he's coming from. Briana Younger composes a beautifully written and hard hitting story on the culture's disrespect to the legacy of Southern rap by paralleling it to the oppression of Black America. When OutKast won New Artist of the Year at the 1955 Source Awards, they were booed all the way to the stage. Even years later when their obvious success was cemented, they were spoken about like "one of the good ones" to come out of the south. As if to be even considered good, a Southern rapper must be exceptional. Young Thug was called "post-language/post-lyrical" and entire growing areas of the culture are othered as "mumble rap" in the same way that hip-hop as a whole has long been sneered at as not really music. In one breathe you can label an entire art-form as inferior to save yourself the trouble of weighing its merits. The density of this article is unreal, but with the help of a few direct quotes we broke down these angles and more in our discussion.
T-Pain Tastes Gas While Eating Spicy Wings | Hot Ones [First We Feast July 30, 2020] Interview by Sean Evans
To end on a lighter note, this week I brought an episode of Hot Ones as piece of quality content. Anyone who has listened to our podcast a few times is probably aware of how much I talk about Sean Evans as a measure for interview quality, so it's about time I get to really break down what I mean. I explain what makes the show's famous format so groundbreaking and why Evans has been the perfect journalist for the job. This episode in particular was interesting to me because of how Hot Ones has worked with their resources to develop a pandemic-safe method of filming the show. Done via webcam at the subjects' own homes I'm sure they're just thrilled to have access to their own bathrooms at the end of the session. Tune in to the podcast for our full discussions on these great topics.
Thanks
Thanks for reading, listening, clicking and washing your hands! Got feedback on the episode? Have your own thoughts on the content? Want to share some of your writing? Hit me up! Find me on Twitter @HooplaHill or use the "Contact Me" option on my homepage to reach out to me!