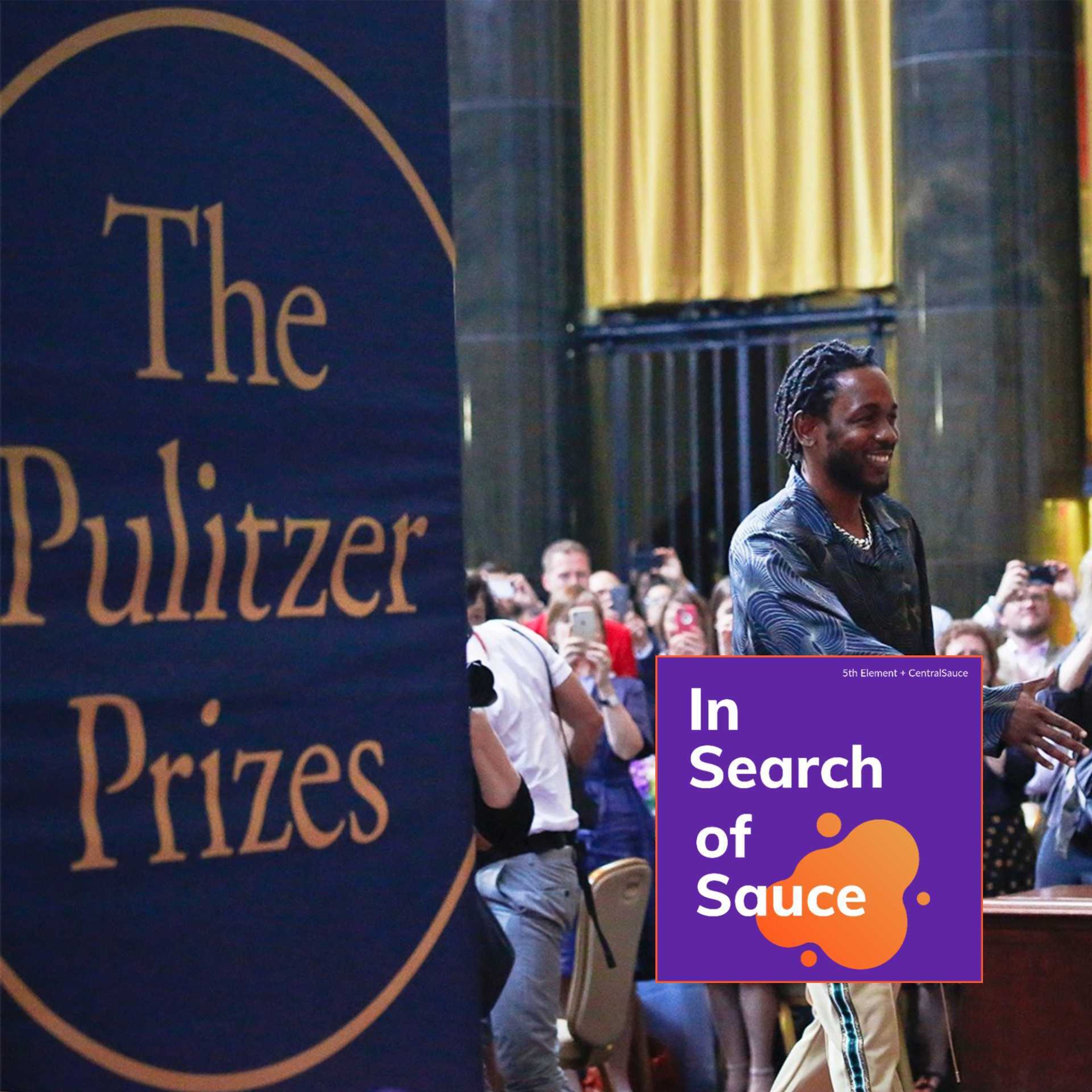 In the first of a two-part special series on the Pulitzer Prizes, "In Search of Sauce" explores the Pulitzer Prize for music through Kendrick Lamar's 2018 win for DAMN. and the contextual history of the music prize's relationship with Black art.
In Search of Sauce is streaming everywhere you find podcasts! Don't forget to subscribe on Spotify and please take the time to leave us a review on Apple Podcasts, it's a huge help in boosting our platform.
Stream On:
On This Episode:
We talk about a lot of music journalism on this podcast — some truly incredible work that spans a range from entertaining, to profound and impactful. Yet, the most prestigious prize in American journalism finds no room to recognize the journalists covering some of the most inherently American music — hip hop and jazz.
When Kendrick Lamar won the 2018 Pulitzer Prize for music, you saw the headline everywhere: "Kendrick Lamar wins first Pulitzer for non-classical or jazz music!" But even this excitement is misleading in the lack of context. In the years since the music prize's conception in 1943 — intended to recognize distinguished American music — the prize has consistently awarded European-inspired classical music compositions to the exclusion of music that originated in the country. Aside from Kendrick's win, Black art has only formally been recognized twice for jazz recordings in 1997 and 2008.
We broke down how the nominations and winners are chosen, including how Duke Ellington — nominated for jazz in 1965 — was declined by the board. We discussed how the prize has gone through multiple iterations of its definition in an outwardly facing bid to be more inclusive while maintaining vestiges of inward contempt for "lower forms of music." However, if you're prone to optimism, awarding the prize to DAMN. in 2018 may just show an actual marked change in the prize trajectory.
Jury composition played a serious role in DAMN.'s nomination and recommendation. Their common sentiment was that much of the classical music they examined contained influences from hip hop, so they had to consider the merits of hip hop independently. As we discuss in the episode, jury composition can play a major role in making the prize a less biased take on American music. Diverse juries can bring diverse perspectives and knowledge and really open up the conversation about the qualities they're looking to recognize in music each year.
Thanks
Thanks for reading, listening, clicking and washing your hands! Got feedback on the episode? Have your own thoughts on the content? Want to share some of your writing? Hit me up! Find me on Twitter @HooplaHill or use the "Contact Me" option on my homepage to reach out to me.

Subscribe
You can use this page to subscribe to my weekly newsletter! The newsletter goes out every Tuesday and contains these blog posts on the podcast as well as a summary of my published writing and the occasional surprise. If the confirmation email goes to your spam inbox, make sure you set my address to be received normally.