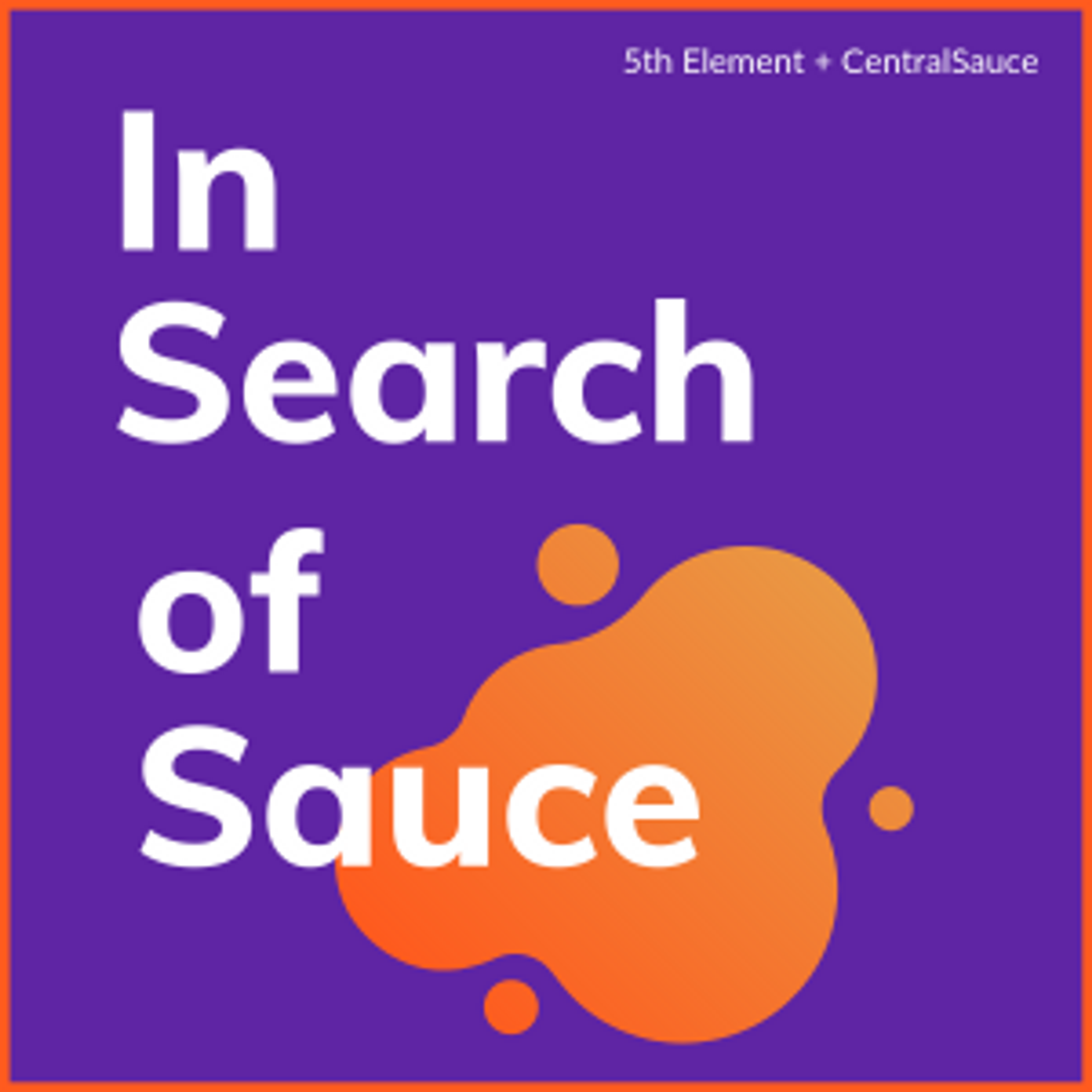 Lucky thirteen, my favorite episode of the podcast to date. This week we discussed how the difficulties of streaming revenue for artists has been massively impacted by the pandemic, an interview with Jonah Yano about the soothing melodies of his new album, souvenir, and Yoh Philips' musings on how rappers and writers think about dying. The podcast is available everywhere you can find podcasts. Listen and leave us a review on Apple Podcasts.
Spotify: https://open.spotify.com/episode/3Z6TX3fZq5thKmGgaQOpvv?si=m5_40TWqRy-S9P6tM4RUOQ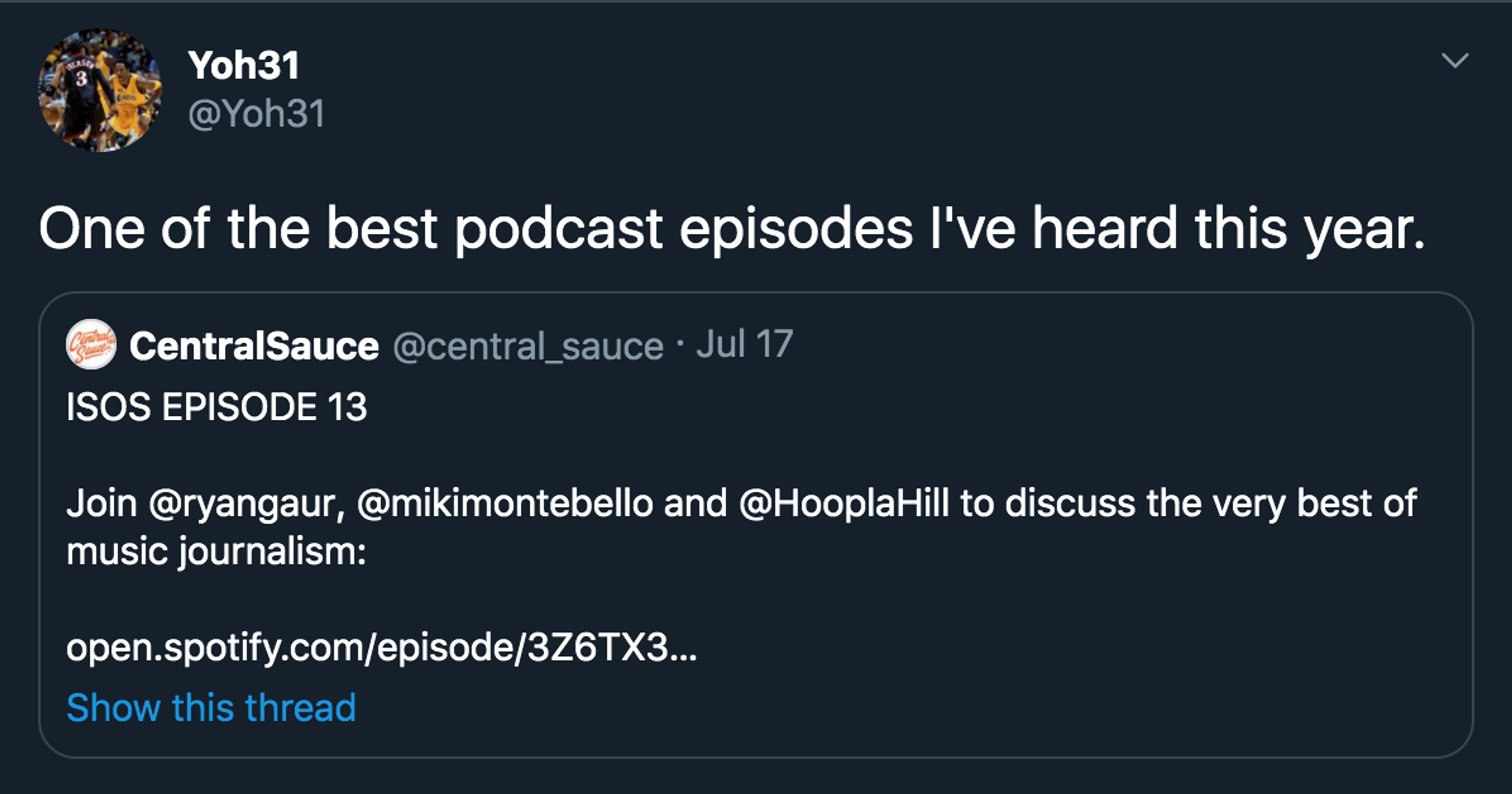 In Search of Sauce is dedicated to combating the idea that music journalism is dead or dying. We sift through the click bait to bring you the writing, reporting and thoughts of some of the brightest minds in music and journalism with a side dish of our own thoughts and opinions. We tell you what makes each piece exceptional and drive conversations centered on their thought provoking content.
This podcast is a collaboration between CentralSauce and The 5th Element podcast network. If you're a writer and would like the chance to be featured on the podcast use the option to contact me from this site's homepage and send us your recent writing.
On This Episode:
Top five albums from the first half of 2020
Since we're halfway through the year each of us listed our midway point favorites. Mine listed in order below are:
Alfredo by Freddie Gibbs and The Alchemist
Innocent Country 2 by Quelle Chris and Chris Keys
Circles by Mac Miller
Better by Deante' Hitchcock
What Kinda Music by Tom Misch and Yussef Dayes
How Musicians Are Fighting for Streaming Pay During the Pandemic [Pitchfork June 29, 2020] By Andy Cush
Read: https://pitchfork.com/features/article/how-musicians-are-fighting-for-streaming-pay-during-the-pandemic/
Thank God that Ryan brought this piece to my attention. This Pitchfork feature story really opened my eyes to the many difficulties that artists face just to get paid a miserly sum. I'd seen the per stream payment rates before and knew they were atrociously low, but this article shined light on the fact that I really had no idea how these payment rates were decided. An artist's streaming revenue is actually based proportionately on the share of total streams that they make up. More streams only means more money if the increase in streams is higher than the rate that other artists are getting streamed. The whole thing is one big pie, and it turns out the crumbs that smaller artists were getting previously are being consumed by Spotify, larger artists, labels, and anyone who can get a bite. We discussed exactly how this system works, suggestions that have been made to improve it, and more. A truly crucial read on a topic that needs addressed sooner rather than later.
Familial Bonds & Their Lasting Impact: A Conversation with Jonah Yano [Atwood Magazine June 19, 2020] By Adrian Vargas
Read: https://atwoodmagazine.com/jysa-jonah-yano-2020-interview-souvenir/
Miki's number one album slot was filled by a project and an artist I hadn't heard of prior to doing my research for the episode. One thing I love about Miki is how hard this man will go to put his city on. Jonah Yano is a young singer and composer from Baltimore whose album, souvenir, became a pleasant surprise. In this interview Vargas and Yano talk about how the project is a conceptual journey through Yano's difficult family history. The album ends with the song "Shoes," a duet between Yano and the father he hasn't seen in years. It's a beautifully emotional journey that tugs at the heartstrings. We dissected the album and the interview and solidified the fact that mittens are superior to gloves in every way.
Every Rapper is Going to Die & So Will I [DJ Booth Feb 19, 2015] By Yoh Phillips
Read: https://djbooth.net/features/every-rapper-going-to-die
I recently finished reading The Book of Yoh, a collection of some of Yoh Phillips best writing and let me stress just how good the essay section of this collection is. Writing from inside his own head Yoh brings the reader in with the vivid (and in Mikki's case relatable) imagery of his contemplation of death bathed in the fluorescent lights of a strip club. An essay about the pondering of mortality by various artists, both living and passed, quickly turned from a solid analysis to a deeply personally moving stab wound. The curse of the creative, whether artist or writer, is to strive for immortality through truly lasting and impactful work, but no matter how high we reach it constantly feels like falling short. Existential crisis aside, Micki tells a funny story, we all laugh, and show our appreciation for writer who truly represents the vision of this podcast. This segment has all the ups and downs of Game of Thrones but with a bearable ending.
Thanks
Thanks for reading, listening, clicking and washing your hands! Got feedback on the episode? Have your own thoughts on the content? Want to share some of your writing? Too many dank memes in your phone and no one to send them to? Hit me up! Find me on Twitter @HooplaHill or use the "Contact Me" option on my homepage to reach out to me!