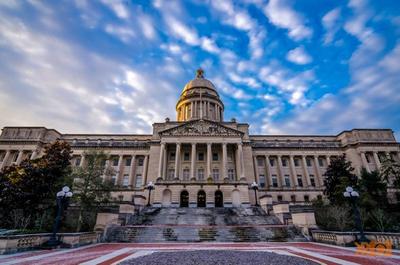 Community bail funds would be considered illegal under a bill being considered in the Kentucky General Assembly.
Charitable bail organizations take donations and use them as part of a revolving fund to bail people out while they're awaiting trial. A bill being sponsored by Rep. John Blanton would make the work these organizations do illegal. The Republican from Magoffin County said he wants to see more accountability for community bail fund organizations.
"All of a sudden it's being used basically as a get out of jail free card from someone who has no interest in anything other than releasing people who have been criminally charged with a crime," Blanton said in an interview with WKU Public Radio.
Blanton said he hasn't spoken with any community bail organizations regarding his bill or to get a better understanding of how they determine who to help. According to the Louisville office of the non-profit group The Bail Project, at least 91% of people they've bailed out went on to show up for their subsequent court date.
"Everybody wants a better outcome in the judicial process," said Shameka Parrish-Wright, the partnerships and advocacy manager for the group's office in Louisville. "Our work is leveling the playing field in a criminal legal system that's filled with injustices," she said.
Parrish-Wright said she's helped people who are being held on bail for $100 or less. The Bail Project provides court reminders, transportation, emergency shelter, and other assistance for low-income individuals needing help getting to court.
As the pandemic continues to surge in the state, the Kentucky Nurses Association is asking lawmakers to set aside money so every public school can have a full-time nurse.
Advocates say school nurses help students stay healthy and in class and can be an important resource for kids struggling at school or at home.
They can also help identify and address mental health issues, which school counselors say have become more frequent and intense among students during the pandemic.
Eva Stone, a nurse and health services manager for Jefferson County Public Schools, said that school nurses are especially important in Kentucky, which has higher rates of obesity and diabetes and ranks lower on measures like oral health.
Kentucky students rallied against bills that would limit discussions of race in the classroom at the state Capitol on Thursday.
The Republican-led legislature appears poised to take up the measures during this year's session after years of backlash from conservatives distressed by diversity and inclusion efforts in schools and much of American society.
Pragya Upreti, a senior at Lafayette High School in Lexington and member of the Kentucky Student Voice Team, said the bills would undermine the state's ability to educate young people.
"In order to constructively engage across lines of difference, Kentucky students need and deserve to learn accurate history, to practice having challenging conversations in our classrooms so we can be prepared to address injustice beyond that," Upreti said.
Gov. Andy Beshear delivered his budget address Thursday night, laying out a series of spending priorities like universal pre-K, raises for state workers and a boost in funding for higher education, which is still reeling from more than a decade of cuts.
The governor had already unveiled many of his proposals over the last week after House Republicans broke tradition and released their spending plan early.
But still, the governor used the televised address to make the case for a sweeping two-year budget plan that would take advantage of windfalls from a historic budget surplus and federal relief dollars.
"Now is when we must make the bold investments. Now is our chance to move this state forward—not right, not left but forward," Beshear said.