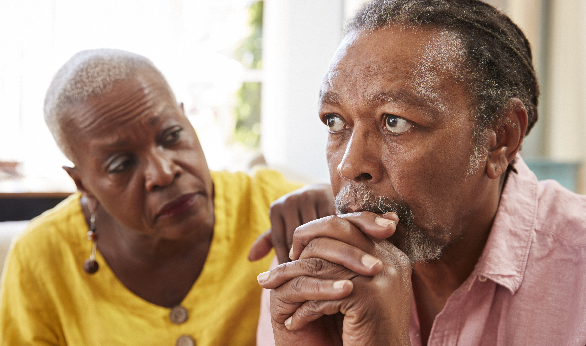 As February approaches and the United States observes Black History Month, medical experts are bringing more awareness to Alzheimer's disease and its impact on Black Americans.
According to the National Brain Health Center for African Americans, "African Americans are two to three times more likely to develop Alzheimer's disease than non-Hispanic White Americans. Alzheimer's disease is the 6th leading cause of death for all Americans, but the 4th leading cause of death for older African Americans."
Researchers across the U.S. have embarked on many studies to learn more.
For the Black American with Alzheimer's Symptoms
Traditionally, persons of color have been reluctant to seek out medical care. According to Paula Duren of Universal Dementia Caregivers, many often find help through their church or community before they seek medical help. In studies about the COVID-19 vaccine, the Kaiser Family Foundation reported, "70% of Black Americans believe people are treated unfairly based on race or ethnicity when they seek medical care."
How can this gap be closed? At the 2020 Women's Alzheimer's Movement (WAM) summit, Mirella Diaz-Santos, Ph.D., an Assistant Professor and a neuropsychologist in Alzheimer's disease, states, "When we asked communities of color what they needed, the resounding answer was education. There's a disconnect between what the medical community understands to be the issue, and the how patients see their symptoms." Oftentimes, it's simply a matter of finding common vocabulary to convey the necessary scientific knowledge.
Researchers also must use the proper language to describe diabetes, renal issues, and heart disease, concerns that impact the non-White community in greater numbers, emphasizing how these health issues occur with dementia symptoms, and often lead to additional risks if left untreated.
Metabolic Health
How do we create these new conversations? The medical and caregiving community can aid in detecting and managing Alzheimer's disease by helping patients understand all aspects of their health, in particular, metabolic health.
Your metabolic health is defined as the body's ability to use and store energy from the food you eat. To measure your metabolic health, doctors test blood sugar levels, insulin, cholesterol, blood pressure, and weight, without the influence of medications. When test results are out of normal range, they become factors in developing heart disease, diabetes, and stroke, for which persons of color have higher incidence rates.
A 2018 study at University of North Carolina found only 12% of Americans are metabolically healthy. "We need to look at metabolism beyond just body weight," said Dr. Rekha Kumar, endocrinologist at New York-Presbyterian and Weill Cornell Medicine. While obesity is a common cause of various diseases and can be addressed through public health initiatives, the study proves even those with a normal weight are not metabolically healthy.
Dr. Stanley Wang, a cardiologist at Austin South, studied the metabolic syndrome, which tracks disproportionate occurrence of risk factors pertaining to metabolic health. Most of what we previously knew was derived from mostly Caucasian populations. He concluded, "In the U.S., metabolic syndrome has a high prevalence in African Americans, particularly women, thus pointing to a higher prevalence of obesity, hypertension, and diabetes in this population."
One way to focus on metabolic health is through more personalized medicine, targeting the specifics of one's genetic and environmental background, as opposed to generalized categories for care.
The Importance of Individualized Studies
There is still need for more data to study the effects of Alzheimer's in Black Americans and other persons of color. At present, most clinical studies are comprised of White participants. One new study, The Ahead Study, a new Alzheimer's prevention trial funded by NIH and Eisai Inc. is testing an investigational treatment aimed at delaying memory loss before noticeable signs of Alzheimer's disease begin.
The Ahead Study has made news because: It's the first to enroll participants as young as 55 at risk of developing symptoms, which will help bring in a diverse population. They will tailor dosage levels "of the investigational treatment to study participants' brain amyloid levels. And they will "test a medication that has been shown to lower brain amyloid in people with symptoms of Alzheimer's."
Studies such as these point to the need for more personalize medicine to encourage physicians to look at all the underlying factors that comprise one's health, and help the patient make the necessary small adjustments to avoid the larger adjustments later on.
Annette Januzzi Wick is a writer, speaker and author of I'll Have Some of Yours: What my mother taught me about dementia, cookies, music, the outside, and her life inside a care home (Three Arch Press), available online, and is a recipient of a 2020 National Society of Newspaper Columnists award. Visit annettejwick.com to learn more.
Arden Courts Memory Care Communities host free virtual education events about various aspects related to dementia. For more information about upcoming virtual events or to view our library of free virtual dementia education webinars, visit our webpage at www.arden-courts.org/virtual-events.