Annette Januzzi Wick lives in Over-the-Rhine. She recently completed a project called, "Girl, Walking," where she walked Cincinnati's 52 neighborhoods within a calendar year, blogging about the communities and what she found intriguing and relevant about each.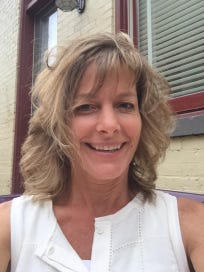 I sat in the back of the dim room, listening to Yvette Simpson. I knew Simpson, the city resident. And Simpson, the councilwoman. Now, I wanted to know Simpson, the mayoral candidate.
Yvette spoke ardently about her background, growing up in poverty, raised by extended family, securing a law degree and an MBA. Then, she transitioned to her real passion. Cincinnati's 52 neighborhoods.
As a transplant from Cleveland by way of the Pacific Northwest, I had always heard about Cincinnati's "52," but my knowledge was limited the east side when I lived there in my 20s, and now, in my 50s, around the urban core.
I had already followed Simpson's posts on social media. She talked about and appeared in neighborhoods I didn't know how to access so I crossed boundaries to get Bond Hill. North Fairmount. She marched in parades and I bought coffee at walk's end in Pleasant Ridge. Madisonville. She attended community meetings with six residents so I marched through South Cumminsville and East Westwood.
I considered myself well read and curious. If I didn't know those neighborhoods, neither did the rest of the city. I embarked on a quest to walk the "52" and crossed highways and hills, interstates and the obscure Mill Creek.
On Dec. 4, I covered the boundary and core of East Walnut Hills and thus set a precedent to traipse through as much territory of a neighborhood as possible. I next walked Queensgate. I had no plan, other than I wanted no plan. While accessing recollections from my younger days, I also observed each community with a fresh set of eyes and scrutinized a neighborhood not just for its "as is" but its "to be."
I traipsed across California and up the mounts of Westwood. If I found no personal connection, I made one. In the Villages of Roll Hill, I met neighbors who wanted to simply talk about their kids or their meat smoker. I left a neighborhood better than when I found it, even if only my energy fulfilled that obligation.
I was chased by dogs, had my racial, economic and eastside-westside biases checked, and returned home, surprised by my heart. With enthusiasm for my finds and distress over the devastation of some neighborhoods, I plopped in my chair and wrote about each neighborhood.
As I closed in on my final neighborhoods, I grew tired and grumpy. And then I considered how many times Yvette might have shown up at a sparse meeting or knocked on someone's door in the cold, how many hurdles she had to clear to get to this point in her career. Then, as a former hurdler, I could certainly propel myself forward over those last few.
Recently, I had a drink with friends. Someone asked about Winton Hills. Another friend responded, "Ask Annette. She's the neighborhood person."
That isn't true.
Yvette Simpson is "the neighborhood person." She best understands the complexity of the composition of our city and has the necessary skills to propel Cincinnati into the future. From the ground up. The best leaders lead with the people at their side.
Simpson best tells the story of Cincinnati because she IS the story of Cincinnati. She inspired me to want more for my city. Can your candidate running for office do that?