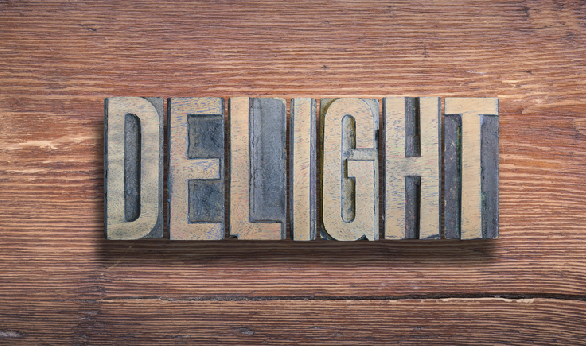 Perhaps Isaac Asimov was alluding to such occurrences as snow. My niece, raised in Florida, had seen photos of snowstorms and read books with information about snow. When arriving for visit, and a chance blizzard hit Ohio, she found out what snow really was, how it tasted or felt, instead of simply learning about it.
The word delight has an old-fashioned ring to it. As a matter of fact, the word itself is derived from delectare – to charm (Latin). The dictionary also defines delight as a source of great pleasure. According to a software program that tracks word usage, delight enjoyed its heyday in the early 1800's. Handel's Messiah's, published in 1807, refers to delight on numerous occasions in its text.
Since the 1980's, the word has found its way back into our lexicon, as we desire more of it in our lives.
The Study of Delight
Thalia Wheatley, a Dartmouth professor of psychological and brain sciences, had questions about delight. She led students in creating a study into how to design programs for that emotion. Teams of students were paired with five couples identified through the university's aging resource center. One person in the couple experienced dementia and the other was a caregiver. The students spent one school term with the couples understanding what it was they once enjoyed doing together but could no longer because of physical or memory issues.
The researchers wanted to know what factors were to create a delightful experience for someone, how do you design and create an emotionally meaningful experience, and how do you measure that success?
One team discovered delight could be found in planning and anticipating "something joyful," a party organized for a couple. They even counted the number smiles and used Kleenexes witnessed. Another team connected a couple to their memories by personalizing a version of a popular card game, Cards Against Humanity, incorporating the lessons of attention to detail. And a third team created a whiteboard with magnetic tiles containing scenic photographs to spur memories and displayed it in room where their assigned couple waited for appointments.
Professor Wheatley confirmed her suspicions. "These couples were delighted…They like learning new things, and they like learning them together."
Finding Delight in One's Studies
Do you recall your first trip to the library where you found a treasure trove of books that hadn't been torn apart by a younger sister? And then learned you could check them out, bring them home, and read them at your leisure (and keep them away from same little sister)? That's delight.
Professional homeschoolers have been incorporating that same sensation into students' studies for many years. Called Delight-Directed Learning, the method, according to Trueaimeducation.com, implies the "natural interests of the child help dictate what areas and topics will be learned about and explored. The role of the parent is to guide, manage, and help develop the learning and exploration...a student is encouraged to follow his natural inclinations."
In Of Studies, Francis Bacon, an English philosopher and statesman in the late 1500's, wrote of something similar. He proposed studies should serve "for delight, for ornament, and for ability. Their chief use for delight is in privateness and retiring; for ornament, is in discourse; and for ability, is in the judgment and disposition of business." His ideas also gave way to the development of the scientific method.
Looking at both the homeschool movement and Francis Bacon's theories, one would conjecture freeing the brain for delight allows other parts of it to work towards greater discourse and discovery.
Where is Delight in Our Everyday Lives?
While research and education are worthy models to evaluate delight, Ross Gay calls it "negligence" if people don't honor what they take delight in every day, and don't share in it with others. A poet and professor at Indiana University, he wrote a best-selling collection of essays, "The Book of Delights" to keep track of what delighted him.
In Delight Number 80, Tomato on Board, he writes of "carrying a tomato plant (on a plane) was like carrying a baby, people will smile." Throughout the flight, the attendant frequently asked, "Where's my little tomato," like a grandmother waiting to pinch a cheek.
Studying delight for a year, Gay understood the mechanics of delight worked like other disciplines. "You need to go find it. Train your curiosity." While never giving the reader a definition for delight, it's hidden in his descriptions and the sensations one feels after reading his words. One just has to look for it.
When I hiked with relatives in northern Ohio, snow dropped around me like a soft rain. I hadn't seen snow in over a year. The brusque cold, my wet knit hat, and the white-washed hill near the trail led me back to my childhood sledding hill, and the warmth of Swiss Miss hot chocolate with the fake marshmallows waiting at home. Like my niece, I found delight.
Annette Januzzi Wick is a writer, speaker and author of I'll Have Some of Yours: What my mother taught me about dementia, cookies, music, the outside, and her life inside a care home (Three Arch Press), available online, and is a recipient of a 2020 National Society of Newspaper Columnists award. Visit annettejwick.com to learn more.