Filter Content By: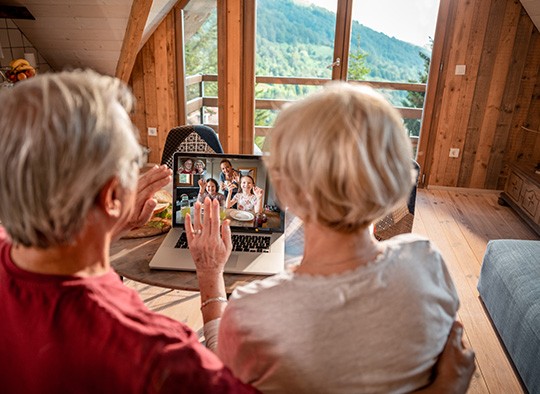 During the upcoming weeks, we will celebrate the act of being together with family, friends, co-workers, and revelers. Exchanges of food, gifts, and memories will be at the core of these gatherings as we mark the occasion in person.
For my husband and I, our adult children and their spouses are spread out across the United States. Family gatherings don't resemble Norman Rockwell scenes and instead involve more advance planning, a deeper appreciation for time spent in each other's company, and a few letdowns when those we love can only participate via online connections.
As a blended family, we learned long ago the presence of our guests mattered more than whether we had enough sweet potatoes or pie to feed representatives from four families. I approached such undertakings with advice from my mother. Despite growing up in a small extended family, she had perfected the art of gathering. No matter how large or small the crowd, the menu and complete table settings remained the same. She put the same effort into a small gathering, as she did for a large.
I also learned about expectations. How our expectations sometimes let us down and why it's important when gathering around a table, fire, or front porch, we are changed by the experience.
The Art of Gathering
In Priya Parker's book, The Art of Gathering, she writes: "We gather to solve problems we can't solve on our own. We gather to celebrate, to mourn, and to mark transitions. We gather to make decisions. We gather because we need one another. We gather to show strength. We gather to honor and acknowledge. We gather to build companies and schools and neighborhoods. We gather to welcome, and we gather to say goodbye."
In the pandemic, we didn't gather any less. Zoom became a verb for a meetup so much the software platform should have been renamed Gather. We needed to know the person on the other end of the Wi-Fi existed, was healthy even in a pixelated form, whether they were on other side of the country or city. Through technology, we came together as doctor and patient, author and reader, or language professor based in another country and novice. We gathered because it spoke to the core of who we are.
Parker also discloses how many people have forgotten or bypassed the key ingredient to assembly, which is purpose.
We don't have to be intentional at every coffee shop meetup with friends, but we should acknowledge one friend started a text thread suggesting a plan with an impetus to gather. Something at the heart of their messages caused the others to confirm the plan. When the meetup concluded, Priya Parker asks, did one experience an alteration, in mood, disposition, a call to action? We cannot help but be altered by energies of others and can use that to help others or grow outside ourselves.
Adding Purpose to our Planning
When my mother was alive, I rarely missed parties at her care home, whether for Thanksgiving, Easter, or other holidays. My favorite interactions occurred when residents were reunited with loved ones. The festivities were charted out by the staff to ease the challenging or short visits that occurred on a daily or weekly basis and the flashes of smiles and streaks of joy I witnessed when residents connected with loved ones through their eyes or heart was a beam of hope.
My mother laughed with other families who probably visited on days when I was absent. They knew her well despite not knowing me. The appearance of fresh faces, surrounded by familiar ones, provided a comfortable setting for her to feel she was in the flow of life, and incentivized her to mimic the actions of hugging, singing, playing drums. For that period, she existed outside of her everyday self.
By Parker's definition, even the small hours when she and I were together with others who lived in the residence were indicative of purpose. Many times, I was grateful for the jokes of Big John, who wanted someone to laugh with, or the discourse on paintings with Greg, who wanted to stretch his mind. Sometimes, the purpose pointed toward my mother, sometimes at John or Greg, and sometimes at myself, a reminder my mother still had love and life to give.
As we gather this upcoming season, we need to ask ourselves if we're gathering because we always do, because we haven't been together in year, because this may be grandpa's last holiday? We should also acknowledge how we've been altered by a slate of tragic events, how the world has changed even if the recipe for stuffing has not.