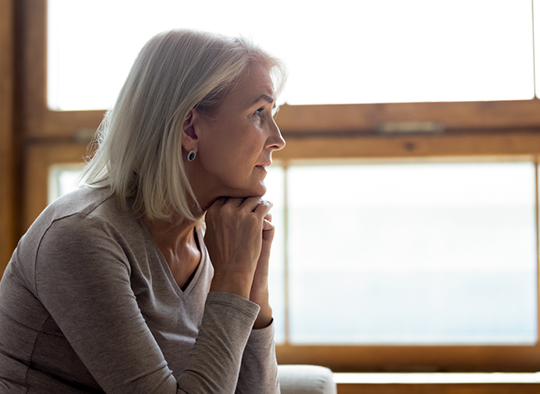 Pauline Boss was raised in an immigrant community in Wisconsin. Growing up, she recalled how her parents, who came to the United States in the early 1900's, often felt a profound sense of separation from their families back in Switzerland.
In most cases, their homesickness was considered normal. But she became curious about "this unnamed loss and the melancholy that never went away" in the household. That heavy longing formed the basis of Pauline's lifelong work as a psychotherapist and teacher to explore the territory covered when we experienced emotions for which society had not named.
Brand marketers Kyle Hildebrant and Ryan Durant write, "We name to identify, symbolize, refer, describe, simplify, organize and, most importantly, to tame. When you tame something, you do so to bring it closer." Pauline Boss named the feeling of being torn between two lives as an ambiguous loss, in order to intimately observe it.
Many losses in our lives are not as concrete as that example. They don't fit into the same container. But they do fall into the category of ambiguous.
What is Ambiguous Loss?
In her book, aptly titled Ambiguous Loss, Pauline Boss defines the condition as mourning that which can't be named. The loss is ongoing, not a single event, and can't be pinpointed or defined. Think of family members or spouses who waited months or years to learn the status of loved ones fighting in Vietnam.
Initially, the soldiers were listed as Missing in Action (MIA). If families stepped up and processed the death of loved ones, soldiers were declared as "presumed killed in action" (PKIA). But for many reasons, others could not say the same. They felt stuck, and couldn't call themselves widows, or mothers whose sons had died. Even their children could not be considered without mother or father. Their losses were not easily identifiable to those around them, least of all themselves.
A year ago, while walking in a pedestrian right-of-way, I was struck by a car, and set off on an excruciating journey to regain the use of my left knee. Beneath the ice packs, bruises, and struggles to walk, I lost the ability to define myself. As a prolific walker, I covered miles of city streets, experiencing it in a way others had not. Unable to be that person, I feared crossing the road and the instability in my step. While those fears could be attributed to PTSD because they referred to a specific event, the losses I grieved were separate.
I lost the freedom and independence to roam the streets. Due to injuries, I lost momentum in my writing career, and thus, my writing voice became stifled. None of those losses were visible, yet were felt deeply.
Ambiguous Loss in Caregiving
How does the concept of ambiguous loss apply to caregiving? In relationships between caregivers and loved ones, we cannot see or touch the ties that bind them together. We only sense that pull. When those bonds are strong. When there is tension. The person the caregiver knew, made up of particles of cells, is still present in front of them. The person they love, made up of sums of memories, sometimes disappears.
What does Pauline Boss advise for caregivers struggling with this kind of loss? "Both mastery and spiritual acceptance of the situation are highly functioning for caregiving families as they live with Alzheimer's…those who use only mastery manifest anxiety and depression." By mastery, she means learning to give up control. By acceptance, she writes, "what is needed is not absolute clarity, but rather an acknowledgement of ambiguous losses."
In her therapy sessions, she reminds caregivers and families about North American Indian women who never spoke of "catastrophic illness." They saw the deterioration of an elder as "completing the circle of life, one that should be celebrated and accepted." In naming those losses of interactions and remembrances, individuals discover their struggle to move forward is not entirely their fault. That breath of fresh insight allows the healing to begin.
Regarding the families in Vietnam, one wife whose husband was declared MIA frequently spoke aloud to her missing spouse. Troubled about selling the family home without him, the one-way conversation allowed the wife to hear her own words and complete the sale, based on what she perceived the husband's opinion to be. In a way, leaving the door open to his presence provided her incentive to go on. After the move, she grieved the home and the life left behind.
Paused during the pandemic, my therapy was back on track. I bought a new lightweight, neon vest that blinked when I walked in the dark. My routine had been altered, and reluctantly, I accepted the change.
There are innumerable ways to experience ambiguous loss, and therefore, no one right way to grieve. However, it's important to give it a name, and find an outcome that offers hope for when the next loss occurs.
Annette Januzzi Wick is a writer, speaker and author of I'll Have Some of Yours: What my mother taught me about dementia, cookies, music, the outside, and her life inside a care home (Three Arch Press), available through online retailers and distributors, and is a recipient of a 2020 National Society of Newspaper Columnists award. Visit annettejwick.com to engage her services or learn more.