Ally Gallagher
Jacek Frost isn't much of a talker.
As a cowboy competing in nearly every event rodeo offers, while focusing on bareback riding, Jacek has bigger things to do than talk. Instead, he listens. Maybe that's why he's only been bucked off twice.
When it comes time to compete, Jacek is engrossed in what he does. In those eight seconds, the horse is bucking, the crowd is roaring — it might feel like utter chaos to a spectator. But Jacek is laser focused. He'll even listen for advice mid-ride.
"He listens to all the advice that's given to him … and it shows," said Judy Frost, Jacek's mom. "You can be talking to him, even in the middle of a ride. As he's riding, he can still hear you. He doesn't just go blank. He focuses."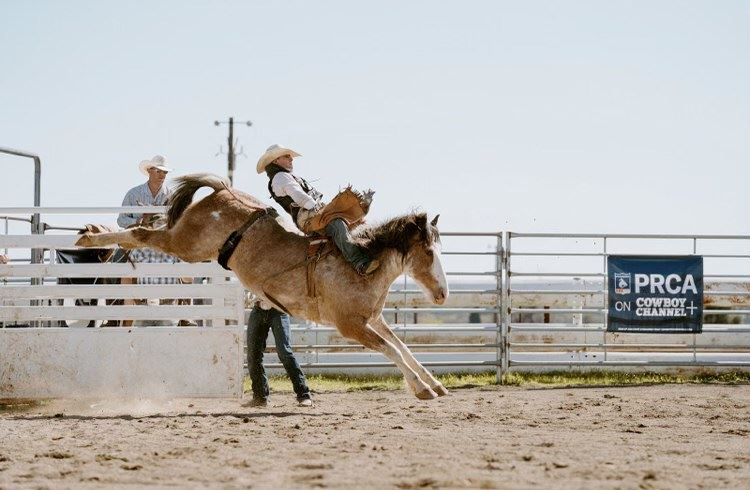 Being a cowboy comes with a lot of support. Jacek and his brother, Jasper, have been homeschooled since seventh grade, and their parents intently watch every rodeo. Jason, their dad, and Judy are quite the tag team; while his dad "holds his breath" and can hardly stand to watch, his mom films every ride.
"I'm that mom," Judy said. "I video every ride, and we analyze it after he rides so he can see what he's done and what he needs to improve."
Growing up on a ranch in Browns Valley, CA with a father who steer wrestled for 13 years, Jacek and Jasper were born for rodeo. More specifically, Jacek was born for bareback riding.
When Jacek was a year old and "barely walking," his dad would put the rodeo on TV and tell Jason to watch it with him. Jason wanted Jacek to watch steer wrestling with him, but Jacek was only interested in one event.
"He would stand a foot away from the TV and watch every single bareback ride," Jason said. "And he would just look back and giggle. Every time."
As he grew out of diapers and into cowboy boots, Jacek continued to show that he had a future in rodeo. When entered in mutton busting at 5 years old, it was no surprise that he held on the longest.
"It took the bullfighters to get to Jacek and say, 'Hey, let go,'" Judy said. "He never got knocked off, he just held on until the bullfighters told him, 'It's OK, you're done!'"
During his tenure in the junior ranks, holding on the longest has worked out pretty well, too.
Jacek is the 2021 Junior American Rodeo Novice Bareback Champion. He also took home a multitude of state titles. In 2020, he placed fifth at the National High School Rodeo Finals and was a Jr. NFR finalist.
But riding bareback doesn't always go as planned. Wrecks are to be expected.
"You know it's not if, it's when and how bad will it be when (your kids) get in those wrecks," Jason said. "It's hard on you."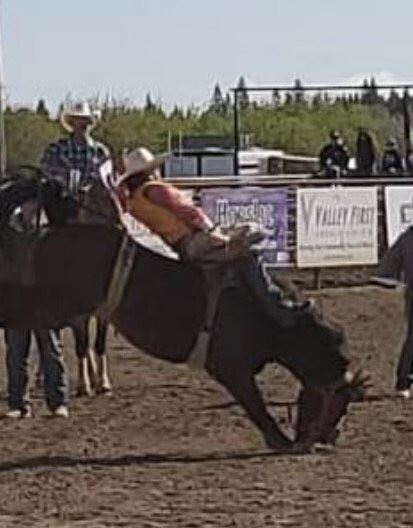 In 2020, the Red Bluff Round-Up hosted two Jr. Rodeo qualifying events. Jacek claimed the top prize of qualifying for the 2021 Jr. NFR and getting to ride in the PRCA performance at Red Bluff. Last year, a horse sent Jacek airborne, and he got hung up.
This year, he drew the same horse at Red Bluff for the Jr. Rodeo exhibition. Now dubbed a "redemption ride," Jacek didn't let the horse get the best of him. He went on to post a 74-point ride. The exhibition ride would have placed fifth in the go-round.
"It was just kind of cool that I could get on again and do how I did," Jacek said.
That ride has Jacek fired up for the upcoming Jr. NFR, set for June 28-July 3 at Cowtown Coliseum in Fort Worth, Texas, where he said he'll see the best competition junior rodeo has to offer.
Just 17, Jacek has one more year in the junior ranks after this season.
For now, his focus stays within the junior ranks, with goals to take home the title at Jr. NFR and "be at the national finals multiple times." As a former finalist at both Jr. NFR and the National High School Rodeo Finals, Jacek is nearing his goals.
Jacek Frost may not be much of a talker, but he sure is quite the cowboy.