Ally Gallagher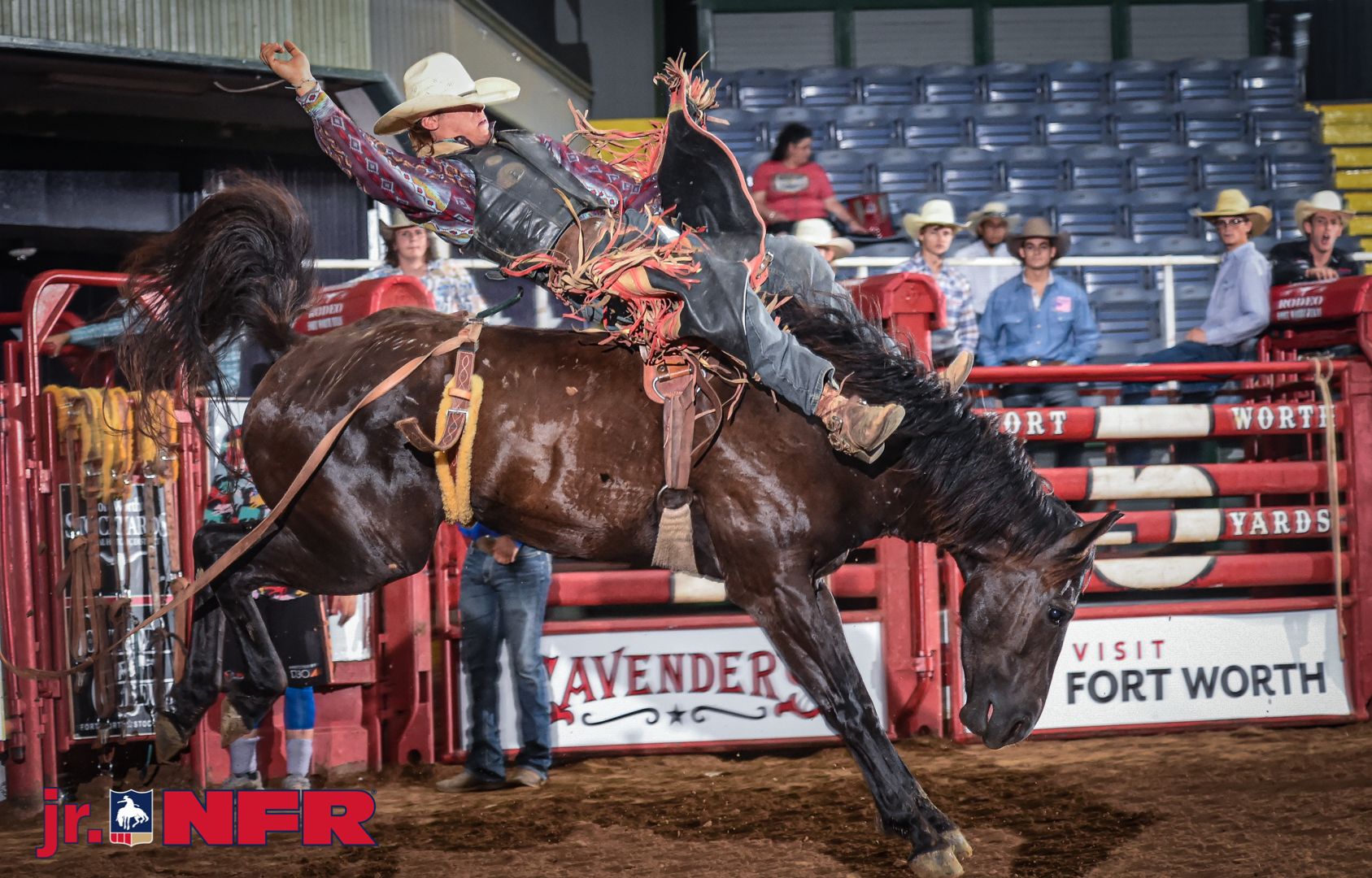 Friday's semifinal performances in the historic Cowtown Coliseum proved that any athlete in the top 20 can break through into the Jr. National Finals Rodeo championship round. Underdogs and exemptions alike will come together Saturday to compete for $10,000 in added.
Barrel racing sensation Devin Young continued to prove that she is a force to reckon with in the arena. Scoring 13.61, she ended the day on top. She has yet to trail in the competition and looks to hold onto that trend one more time.
The barrel racing sixth finalist will be determined Saturday morning as there was a two-way split between Patton Ann Lynch and Rylee Hardin, who clocked 13.94. Due to Lynch's exemption spot, a run-off is necessary.
Roughstock athletes came to ride today, and all three event leaders scored in the 80s as they head into the final day of the Jr. NFR.
John Crimber, son of bull rider Paulo Crimber, conquered his bull for an 86 to sit at the top of the standings for the final day.
"It feels really good," Crimber said in an interview with Cowboy Channel after the ride. "That bull's bucked me off three times, so that felt really good."
In saddle bronc riding, multi-event cowboy Benny Proffitt took the top spot with an 81. Of the three events he competed in this week -- saddle bronc, steer wrestling and tie-down roping – Proffitt will return in saddle bronc for a shot at $10,000.
Kade Berry made waves in bareback riding, where he scored 80 points.
To get on in an added event like this with the added money, the crowd—it's going wild, it's loud, it's action-packed," said Berry. "That's what bareback riders live for and the support we all show and give each other, that's what fuels us to go."
For the timed event cowboys, Friday meant putting it all on the line and taking chances to not just get a time, but to bring that time down.
For some, taking a chance paid off big.
Underdog tie-down roper Bryce Derrer walked into the eighth hole, with two exemptions in his field. One of which was Riley Webb, who has been hot since winning Texas High School State Finals. Fans will see Webb in the finals, sitting in second place, with a 8.69. Derrer came out on top today with an 8.63 second run.
Another athlete rising in the ranks headed into Saturday's final is steer wrestler Rhett Witt. With a 3.12, Witt secures not only the top spot of the day, but of the week. Steer wrestlers came ready to work, with the first five times all falling under four seconds.
Team ropers Jace Thorstenson and Cashton Weidenbener improved their quick time from 7.31 to 6.21 to earn that coveted #1 placement into the finals. Final timed event runs will go in reverse order of rank, meaning Thorstenson and Weidenbener will be the last to back into the box.
In the shortest run of not only her event, but any event in the Coliseum, Josie Conner proved herself worthy of her exemption by running a sizzling 1.89 seconds.
Full results can be found at jrrodeo.org/jr-nfr.
The Jr. NFR will payout over $300,000 during the six-day world-championship event. The Jr. NFR is Jr. Rodeo's premier event for contestants 19 years old and younger. Fans can watch the newest Jr. World Champions be crowned starting at 11 a.m. Central time by purchasing tickets at www.cowtowncoliseum.com or watching the Cowboy Channel.