Having an interactive website is important. It is, however, by communicating who you are or what your company is about and its history that you will engage and entice visitors.
You can do this by adding a timeline to your website. This will allow you to divide your story into smaller sections and highlight all the most relevant steps and achievements your business accomplished along the way. However, creating a timeline from scratch can require time and some experience with the use of confident page builders or widgets.
If you're inexperienced, it'd be best for you to consider some other options, such as buying or downloading ready-made templates that include these types of elements. Nonetheless, the web is now full of these products, and choosing the right one can be challenging. This article will help you narrow down the available options by listing the best free and premium timeline website templates you can easily integrate into your website.
Let's dive right in.
Free Timeline Website Templates
In this section, you'll find a selection of the best free website templates that include a timeline element.
LeadGen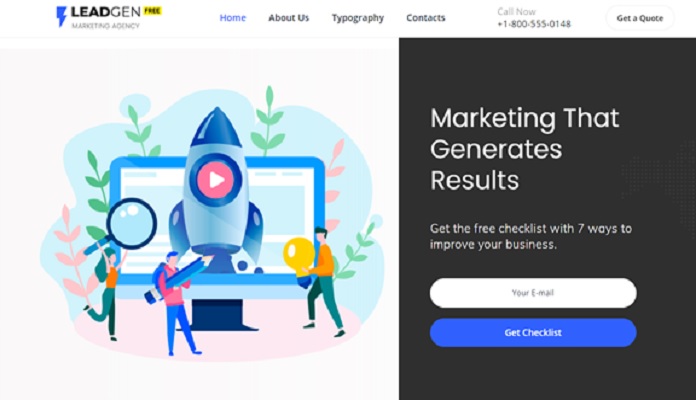 LeadGen is a modern and responsive timeline website template suitable for marketing agencies, internet services websites, and much more. A clean and well-balanced layout structure is enhanced with interactive elements that contribute to making the overall user experience impressive and memorable.
Additionally, this template is optimized for search engines. As such, implementing it will increase the chances of your website ranking higher in search results.
Herber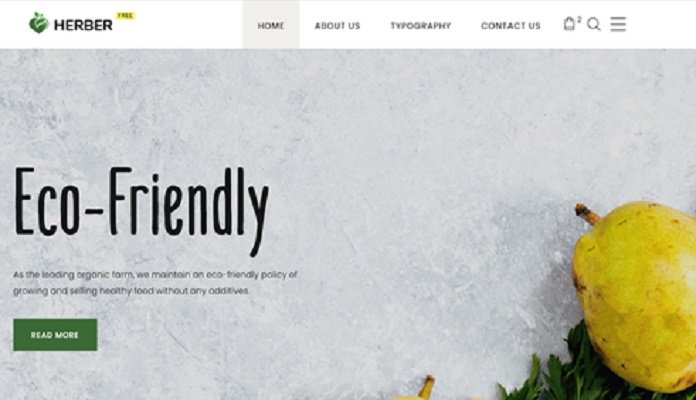 Herber is a modern free organic food website template that will help you create a noticeable website for your private agricultural business. A timeline element, included in the kit's rich user interface, allows you to display the story of your business or the phases through which it progressed.
Also, this template is fully responsive. Thus, its layout will automatically adapt to any device.
What's more, it is SEO-friendly and cross-browser compatible.
Businet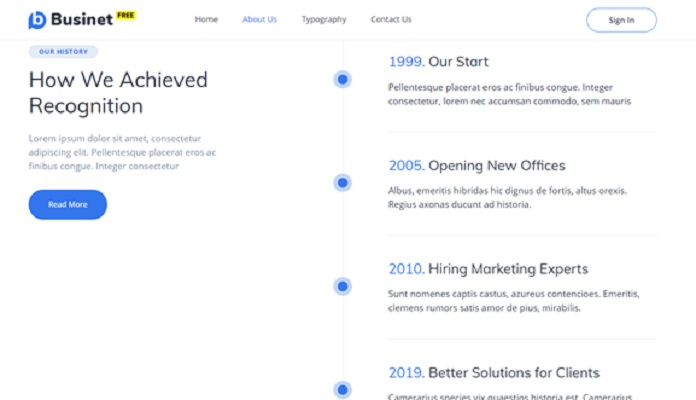 Businet is a free timeline website template that lets you create your business online presence and showcase its story. It is suitable for multiple businesses, especially consulting services.
It incorporates multiple pre-built elements that will make customization and editing easy and quick. It also includes social options, Google maps, and other useful features. Additionally, this template is optimized for search engines, responsive, and compatible with all major browsers.
Quarex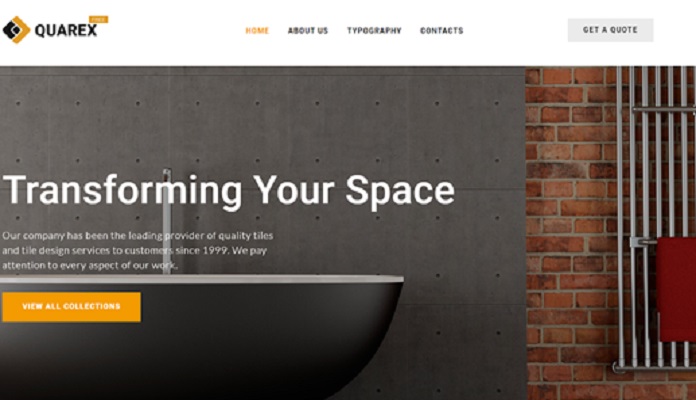 Quarex is another great free website template designed for interior design companies. It embeds all the necessary elements to make your website stand out from the competition and offer a great experience.
Additionally, there are a number of pre-built elements that you can use, such as a timeline that will allow you to showcase your company's history in a more modern way.
The template is cross-browser compatible, 100% responsive, and SEO-friendly.
Premium Timeline Website Templates
Here, you'll find a collection of the best premium timeline website templates. All of them are responsive, SEO-friendly, cross-browser compatible, and come with a support service that you can contact anytime.
Yankee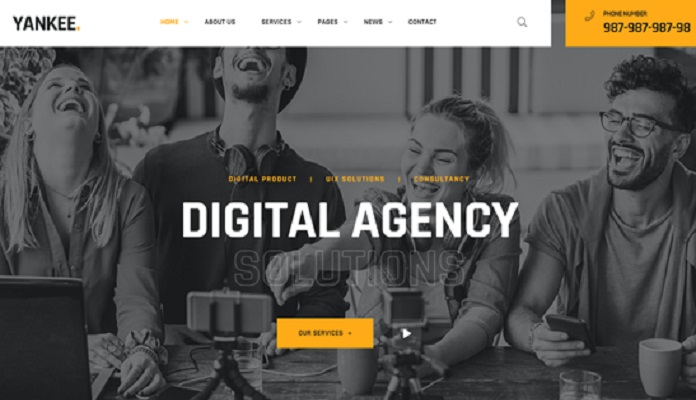 Yankee is a clean, modern WordPress website template for digital agencies.
All the pages include interactive elements to offer the most engaging user experience. For instance, the About Us page embeds an interactive timeline that will let you describe the story of your agency or business.
The template is highly customizable since Elementor's page builder will allow you to drag and drop elements to add, remove, or replace them. Additionally, it comes with detailed documentation that will guide you through the installation and customization processes.
DreamSoft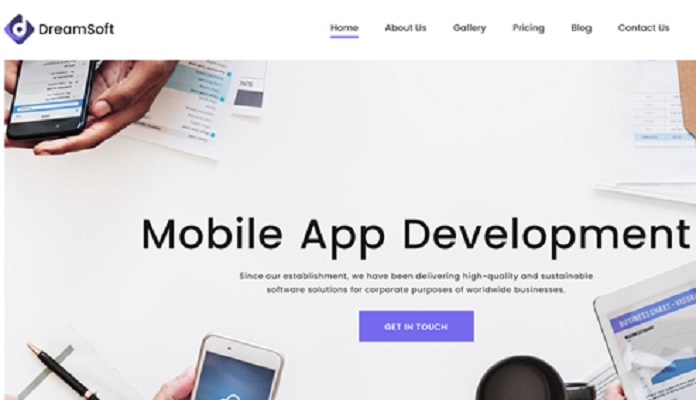 DreamSoft is a premium timeline website template suitable for any type of business.
It includes a huge set of UI elements, cool CSS3 animations and transitions, galleries, timelines, a variety of working forms, multiple Google fonts, and much more.
Also, its W3C valid, well commented, and SEO-friendly code will guarantee you the best performance for both search engines and users. Additionally, it is cross-browser-compatible and completely responsive. You'll also have access to a 24/7 support service if you have any questions about the template.
Bitunet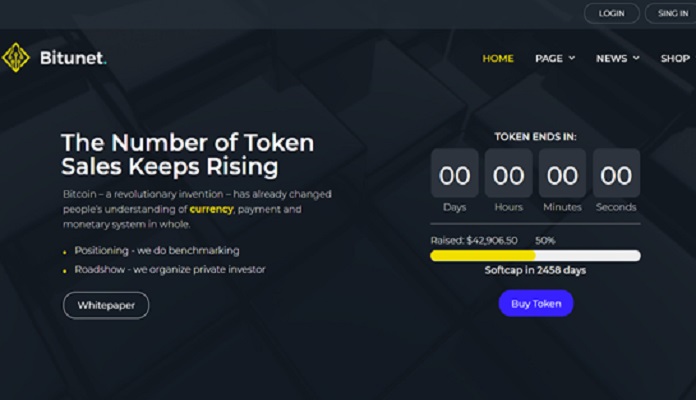 Bitunet is a one-page premium WordPress template designed for financial companies.
The template presents multiple homepage layouts with many different interactive elements, such as timelines, counters, video backgrounds, accordions, toggles, and much more.
It was built with Elementor, a page builder that embeds drag-and-drop functionality, making editing and customizing easy and intuitive without any coding skills required.
Also, this template is fully responsive, optimized for search engines, and compatible with the most popular browsers (Firefox, Chrome, Internet Explorer, and so on).
Dynamics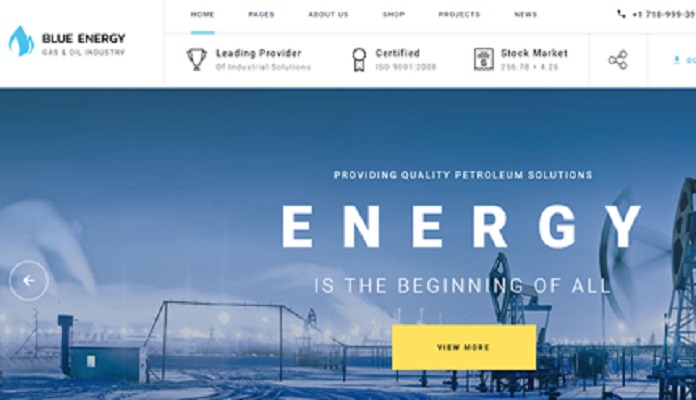 Dynamics is another excellent premium timeline website template suitable for several different industries.
The template comes with multiple layout options. Therefore, you can select the option that best suits your needs and preferences. It has a modern and smooth design, enriched by interactive elements, such as animations, transitions, timelines, sliders, and many more.
Also, it is SEO-friendly, 100% responsive, and cross-browser compatible. The template also includes detailed documentation and 24/7 support for any questions or problems.
Net Star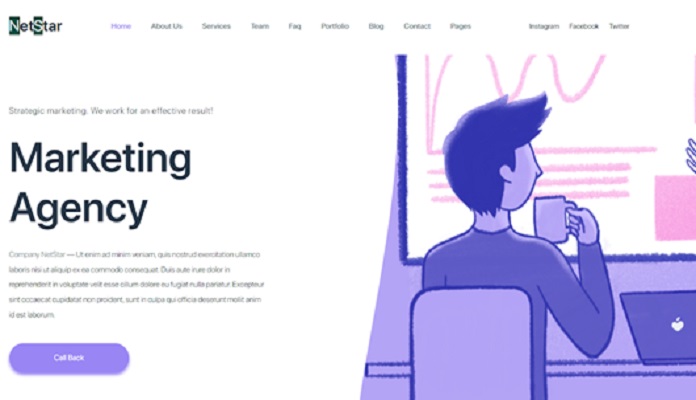 Net Star is a flexible, modern, and multipurpose premium timeline website template, mainly meant for personal, marketing, corporate, and business websites. It is super easy to customize, and you'll be able to edit your website by choosing from pre-built elements and blocks.
Furthermore, the template is responsive and loads fast, so your users will experience the best performance and the greatest accessibility.
How to create a Timeline with Elementor
Would you like to learn how to create a timeline with Elementor? Then, watch the following video tutorial. It will guide you step by step through the whole creation process.
Timeline Website Templates FAQ
What is a timeline on a website?
A timeline represents one of the best ways to display chronological events in a modern and accurate style. You can use it to showcase a company's story or important moments.
Where can I get free timeline website templates?
The TemplateMonster marketplace offers a wide range of free timeline website templates for any purpose and type of business.
How to choose the best timeline website template?
There isn't a specific rule that tells you what is the best timeline website template. However, there are some features that contribute to making a template the right one. Here's a brief list:
SEO-friendliness;
Cross-browser compatibility;
Responsiveness;
Easy customization.
What is the difference between free and premium timeline website templates?
Although the free timeline website templates are just as professional as the premium ones, they often lack some important features and services, such as 24/7 customer support.
Conclusions
Here comes the end of this article about the best free and premium timeline website templates. Hopefully, you found one that suits your needs and preferences.
If not yet, check out the TemplateMonster marketplace. It will provide you with a huge selection of website templates that include timelines among their elements.
Also, if you need more than a single template for your projects, consider subscribing to MonsterONE. It will grant you access to unlimited website templates and many more digital products.
07 Aug 2014
Since the recent years, design industry has witnessed an incredible amount of…
10 Nov 2014
Written by
Allison is a professional SEO specialist and an inspired author. Marketing manager by day and a writer by night, she is creating many articles on business, marketing, design, and web development. Follow her on LinkedIn and Facebook.