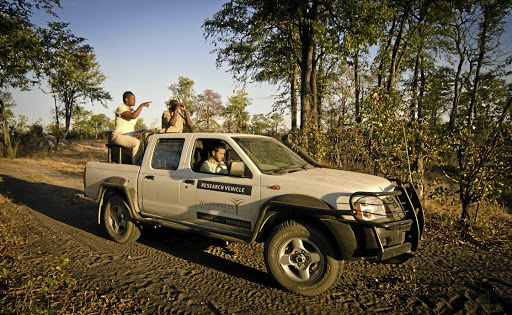 A number of tourism companies are playing a far greater role in African conservation
As dusk settles over the Okavango Delta, we spot him ambling through the grass — vast and grey, like a battleship at sea. He looks up, spots us, and turns his focus back to the grass he's grazing.
While any encounter with a white rhino is special, this one is particularly so: we've just seen Serondela, one of the first white rhinos moved to the Delta in a translocation project that started in 2001 and still continues.
By the mid-1980s, only a handful of white rhinos were left in Botswana due to poaching; the country's last black rhino was shot in 1983. That was the year Wilderness Safaris was founded in the Delta.
It was this outfit — which now runs 48 lodges and safari camps in seven African countries — that proposed bringing black and white rhinos back to Botswana.
With the resurgence of poaching in SA and Zimbabwe over the past decade, that relocation served to establish founder populations in Botswana, and provided these animals with a relatively safe habitat.
The reintroduction of rhinos has largely been funded by donations and managed by Wilderness's nonprofit wing, the Wilderness Wildlife Trust, in collaboration with Botswana's department of wildlife & national parks (DWNP).
Map Ives, a former Wilderness director who now heads Rhino Conservation Botswana, says many of the safari company's guests "have an interest in helping conservation. So if you can appeal to them to donate via your company trust, you have a very good model of a 'win-win-win' for everyone.
"The company doesn't have to spend money from its bottom line, the guest feels good to be donating to a trust that oversees an important project … and the company gains very positive conservation credentials."
Besides in-kind support — accommodation, staff, equipment and fuel, for example — Wilderness Safaris contributed just 12.1% to the trust's coffers for 2018. But 87.07% came from Wilderness guests and trade partners. So it's clear that without high-end ecotourism, the ability of the trust to carry out its work — 40 conservation projects in 2018 and collaborations with the likes of National Geographic — would be compromised.
Wilderness Safaris also sponsors a monitoring team that spends its days tracking the rhinos through the company's concession in the Delta.
In 2017, it assisted with the training of monitors affiliated with other operators, who now report their data to Rhino Conservation Botswana, which collates and analyses it for the DWNP.
And Wilderness's own sustainability team conducts semi-annual counts of herbivores and birds, while predators are monitored throughout the year.
This baseline data can be used to assist other researchers, says Baz Sandenbergh, sustainability co-ordinator for Wilderness Safaris Botswana.
But it's a boon for government too — good data informs good policy.
Several of Wilderness's camps house research units, where visiting third-party researchers live and work.
One of the most important such programmes is the Okavango large carnivore survey. It is part of the trans-Kalahari predator programme run by the University of Oxford's wildlife conservation research unit (WildCRU). Using camera traps, the group is looking to provide a reliable estimate of the number of large carnivores in the Delta, with a special focus on lions, but also including cheetah, wild dog, spotted hyena and leopard. (The camera traps have also come in handy for monitoring rhinos, and shyer species such as aardwolf, aardvark and the rusty-spotted genet.)
Because the Delta is an important source population for these carnivore species, it's an important part of the Kavango Zambezi transfrontier conservation area, which spans Botswana, Angola, Namibia, Zambia and Zimbabwe, says researcher Robynne Kotze. But numbers have, until now, been difficult to keep up to date because of annual flooding in the area.
"This data will form part of a longer-term project, which aims to establish corridors for the movements of large carnivores between protected areas in the [conservation area]," says Kotze.
Already, data gathered by WildCRU's lion research in Zimbabwe and Botswana has been used to develop a framework to predict possible corridors connecting protected areas.
"Large carnivores require large spaces," says Kotze. "As their movements often extend beyond designated protected areas, safe corridors connecting different populations are important to maintain the long-term viability of populations by allowing for genetic exchange."
Wilderness also helps conserve 2.3-million hectares of land across Africa — 51.7% of which was leased from governments in 2018, at a cost of about R67m in park fees. A further 45.9% was leased from communities, at a cost of about R18.5m.
Contributions such as these are vital for state conservation agencies in Africa. Starved of resources, they are often unable to adequately protect the land in their charge or create income opportunities for surrounding communities.
In Zambia, for example, Wilderness has run a concession in Kafue National Park since 2006. This has boosted the park's operating budget for conservation projects.
Aerial surveys done in 2007 and 2017 showed a 487% increase in the red lechwe population, 113% for blue wildebeest and 87% for red hartebeest.
In Rwanda, African Parks — a nonprofit that has managed the Akagera National Park with the Rwanda Development Board since 2010 — has also brought Wilderness on board. It has appointed the company to operate a luxury lodge in the 1,122km² park — home to central Africa's largest protected wetland — that is set to open its doors later this year.
Jes Gruner, the park's manager and CEO, says: "We recognise the strength in partnering specialists in other areas to promote high-end tourism and market a destination."
Kotze echoes this. "The development of tourism plays a large role in conserving landscapes, as well as the species that occupy them. It brings awareness to the last of the world's wild places, but also acts as motivation for keeping them intact."
She says tourism operators in remote areas can bring revenue to local communities, providing jobs and access to health care and education, and improving infrastructure.
In this way, local communities are encouraged to protect their natural resources rather than focus on consumptive use. And, by being in remote areas, tourist operators become logistics bases for research that would otherwise be too costly.
But it's not just Wilderness that is doing this. Last month, along with Singita, &Beyond and Conservation Travel Foundation By Ultimate Safaris, it announced the formation of the Lionscape Coalition. Each company is committing an initial $50,000 — with further funds to be raised from guests — towards the Lion Recovery Fund's vision of doubling Africa's lion population by 2050.
It's an ambitious goal — especially considering increasing population pressures and habitat encroachment. But this private sector partnership model is the only way in which an aim of this sort is likely to be achieved.
*The writer was a guest of Wilderness Safaris