BY ALEXANDER MATTHEWS
I remember when I first met Hello Mr. It was summer 2013 on a London visiting when I was browsing a magazine rack.
The cover was simple: a masthead, a slogan (about men who date men), and a portrait of a moustachioed young man. Amidst the other gay magazines sitting on the shelf – glossies with their exercise workouts and straight celebs in flirty poses, their ads for adult entertainment and gay (boat) cruises – this was something radically different: roughly iPad-sized, with charming illustrations, striking portraits (of guys with their clothes on) and smart, thoughtful stories (about romance and breakup, about new beginnings and old friendships) with copy laid out so that it breathed.
It was the kind of journal you wanted to read, not idly flick through; the kind of journal you wanted to keep on your shelf. If magazines were at a school, then Hello Mr. didn't belong with the flashy gay gang of Attitude, GT and OUT; it seemed more naturally at home hanging out with stylish, slightly nerdy Apartamento and Offscreen – even if though these titles dealt with vastly different subjects. In some ways it was a brother of Butt, the iconic, now-defunct print title "a fantastic magazine for homosexuals" (which has since mutated into an online community) – though Hello Mr. seemed a younger, more serious and gentler sibling, more interested in relationships and love than his cruisey older brother who bared a delicious predilection for smut on its pink sheets.
Two years later, when Hello Mr.'s fifth issue has just rolled of the printing presses, I'm in the window seat of a noisy Williamsburg diner having lunch with editor-in-chief Ryan Fitzgibbon, keen to find out the back story of this special little title.
Skinny, with short blonde hair and painted fingernails (that perhaps pay tribute to Hello Mr. cover star Perfume Genius), Fitzgibbon takes me right back to the beginning. He was designing books and graphics at design agency IDEO's head office in San Francisco. Having recently come out, he was living right in the queer epicentre of the Castro; the debate around marriage equality – and Prop 8 – was raging. As a 23-year-old, he recalls being "very intrigued and engaged in the conversation but didn't see the direct relation to my immediate life. I basically didn't have plans to get married, right? So what content is there for me as a young gay man? The LGBT titles didn't really match to my lifestyle, values, interests at the time."
Through his extensive travels – ping-ponging from SFX to the likes of India, Brazil and Singapore – he saw there was nothing on international newsstands that was filling this void either.
Having left IDEO and been turned down by a prestigious design research programme in Italy he had applied to, he decided to make the leap and start the kind of gay magazine he wanted to read. He moved to Melbourne, Australia, inspired by its thriving design scene and similarities to San Francisco. A Kickstarter crowdfunding campaign raised more than $26,000 so that he could produce the first issue.
Why did he chose paper, I ask, when doomsayers were heralding the impending death of print.
"I felt like the biggest cultural gravity was going to come in something tangible. Making something that people can put on their coffee table, that they have with them in their bag, or read on the train says something and is a very visible badge that people wear," he replies. "The values that come through the design of Hello Mr. have created that common experience that if you someone reading it, you probably know something about them that you could relate to if you're also a fan."
I suggest that people are less distracted when they read print, that it's a lot more focused and intimate than online.
"I totally agree," he says. "Hello Mr. is very personal and intimate but it has all these layers of ways that we relate to one another as a community – but being able to have the experience of doing that on your own time, and being a bit introspective while you're reading it to be able to oscillate between looking outwardly at the community and looking inwardly."
"The issue I always have with web is that it can be so reactive and that's not always productive," he adds. Although Hello Mr.'s website mostly contains blog posts (and the occasional story from the magazine), he's keen to explore how "digital dialogues" can flow from what's been featured in print, "hosting conversations about things that people have already spent time with".
"It's so easy to fall in love with the over-size magazines – they're really pretty to look at, but they're not really practical," he says, when I comment on the compact dimensions of the mag.
"The aesthetic decisions really stem from the cover and how it's very minimal and very simple" – in sharp contrast to the screaming cover-lines of other men's and gay titles.
"Each issue has a really sort of quiet confidence about it," he says. Seeing it alongside Men's Health in Barnes & Noble "it's just clear that it knows what it is and doesn't have to prove itself or [promote] something that is on page 88. It just is what it is. And that filters through the whole magazine, to keep the fonts limited, the space comfortably set. And working with photographers and illustrators has been such a dream – it's so easy because there's a lot of creative people who feel strongly about the magazine existing and want to support it and so there's a lot of really talented people in each issue."
"It's been really challenging going from a big culture such as IDEO where there's over 500 people, support teams in place to help you do what you do, to being a one-man show, trying to get something off the ground and having very limited resources to make that happen," he says.
"In the early days it needed to be a bit more sheltered to make sure that the integrity of what I was doing was being carried through. Because it was so different for the industry of gay magazines, I didn't want to much outside influence to direct where it was going before it was even anything."
Now that the mag is firmly established, with a clear sense of itself, he's been able to expand his team – he works closely with associate editor Francisco Tirado and art director Zhang Qingyung, and hopes to bring others on board to free up time for more strategic thinking. "There's so much I still do that's in the weeds," he says – this includes mundane customer service and sales tasks "where I'm not really using my brain; I'm just doing things to make sure people have their magazines."
Having built a strong foundation with the early issues means he can take more risk "and be more experimental", as well as increasingly mindful of "the various types of readers that we have" – considering "different viewpoints and whose picking it up". Because Hello Mr. is sold in mainstream outlets and not just "your typical gay indie bookshops", the magazine has developed a sizeable following amongst straight guys and women, he says.
"It was always intended to be a magazine for everyone. Even though the content was about men who date men, I intended it to be universal and relatable," he says. "I think we're getting better and better at highlighting universal themes"; this can sometimes involve "taking some pronouns out and making it relatable to anyone". Also, when dealing with gay-specific issues, he believes the writing needs to be reflective and provide context, not assuming that all readers "are in on the joke".
After Hello Mr.'s first issue, Fitzgibbon moved to New York when his Australian work visa ran out. The Big Apple was a natural choice – he wanted "to be in the centre of publishing, where it thrives and where I felt I would be the most supported". When the mag was featured by New York shortly after the second issue launched, it felt like a good omen.
I ask him about commercial partnerships and advertising. In the first issue, he didn't carry any ads, he says. "Being really hesitant in the beginning allowed me to carve out what it was I wanted in a partner," he says. "The criteria are: do they support progress of indie ventures, like ours and the people we feature? Are they sharing the values that we have and genuinely wanting to support our community or be a part of it?"
"It doesn't feel like the brands we're working with are doing us a favour; it feels like they're really interesting in reaching our market because of how engaged the community is," he adds. "I think it's been really clear to brands our audience is really invested in what I'm doing and if we recommend someone or something it goes a long way."
Right since before the magazine's print launch, Fitzgibbon has spent a lot of time and energy nurturing its social media presence, particularly on Instagram (where it now has more than 60,000 followers) – which has proved a prime platform to showcase brands. It worked with HBO to capture behind-the-scenes moments of its gay series Looking, and also partnered with Thailand's Tourism Authority which wanted to reach an LGBT audience.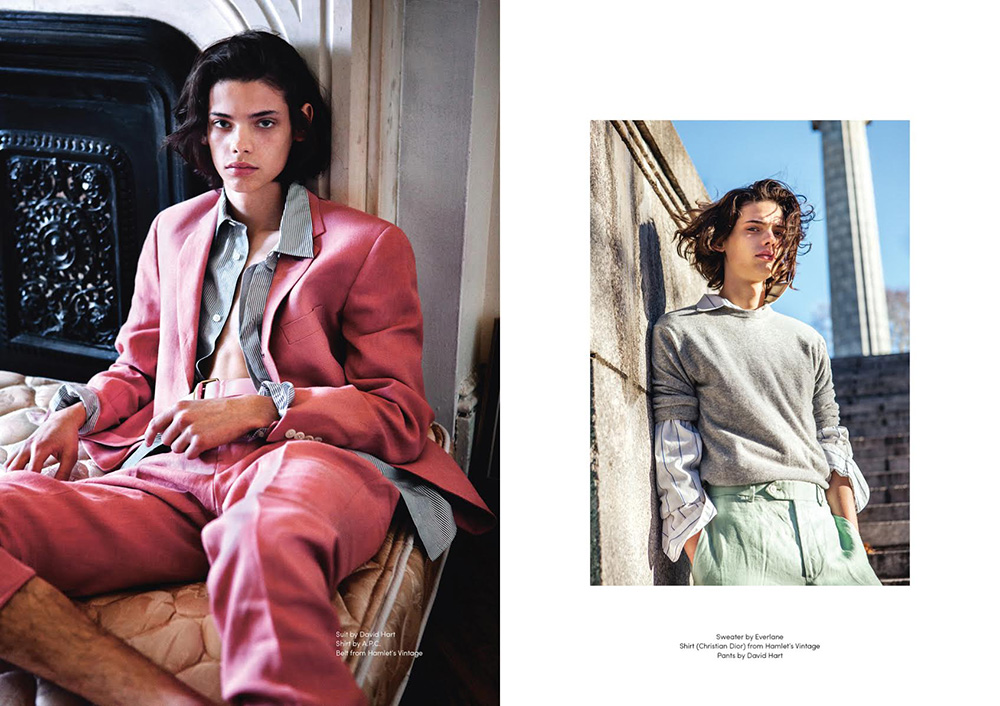 Hello Mr. has reader events all over the world – after our chat, Fitzgibbon is due to head to Toronto; others have happened in LA, London and Berlin. Although "not incredibly lucrative", Fitzgibbon says, "the purpose of them is to create awareness and build connection to the readers, and within the community to each other. I always say Hello Mr. is more than a magazine, it's a community."
Its biggest bash is the annual Hello Love party in February. Initially conceptualised as an "Anti-Valentine's", it evolved "into a celebration of just getting together and having fun".
I ask Fitzgibbon what advice he'd give to others considering starting their own magazines.
"You really have to focus on building that loyalty form that audience that you are trying to reach," he says. "I've always tried to create this with the people I'm trying to create it for so that it feels like it's theirs. And I think the key is being really transparent and co-creative with your audience."