BY ALEXANDER MATTHEWS
This year, Fantastic Man celebrates 10 years of being in print. The biannual men's magazine has received global acclaim for its crisp design, wryly elegant take on men's fashion and in-depth interviews with, well, fantastic men – from fashion designer Raf Simons to director Spike Jonze.
On a recent visit to London, I popped into its offices for a chat with Jop van Bennekom, who co-founded the magazine with editor Gert Jonkers. Van Bennekom, who studied at a Bauhaus-inspired academy in Arnhem says his "background is very pure, typographical-based design" – his undergraduate education interrogated "formalities – abstraction, working with typography, shapes of form – not with photography at all."
This has meant his magazine designs have tended to be "very typographically led – how the grid works with textual elements and often times you think of images also as almost textual elements."
The typographic expert Karel Martens was a "very influential" lecturer, teaching him the importance of a "human touch" – design "needs to have a character… a voice. For me it was never enough that the voice you speak in design is just an abstract one. I want to speak to people more directly."
"Once you create the content, you don't want too much design going on, because you already make a statement with the content," he says. "The design has so much to do with the content and my design is almost nothing: it's just a very classic typeface with a bunch of rule lines; it's more how it sounds with the paper – it's how the whole thing comes together."
After completing a master's in Maastricht, van Bennekom launched his first title – Re-Magazine – in 1997. I ask him what has been the biggest change since then.
"I think communication around commissioning and asking people to do things has stayed the same. The process, in a way, stays the same," he replies. The biggest difference now is that the process is on a much larger scale: it's become professionalised. In 2005, when Fantastic Man launched, he was the sole designer; now he leads a team that works on four magazines and three websites.
As creative director, his "role is an overlapping one" – he provides input on text, steers the design of each issue and develops visual stories with photographers. During production, he's constantly "aware where we are in the design process, where we are in the editorial process, how do those two things come together? I do a lot of the bigger things, like the sequencing of images and see how the whole thing comes together."
His speciality, he says, is being able to grasp "everything from the little detail, to what the magazine represents in a broader cultural sense" – and being able to link those two.
"If you get a good team, that's half the work. You need to really trust people," he says. "I do like people to have a go at existing aesthetics and do them a little bit differently, if it's the right move."
For the past nine years, he's worked closely with Veronica Ditting who joined the company as a design assistant; today she's art director of The Gentlewoman (Fantastic Man's sister title which launched in 2010). "Our language is very similar; and we've also now really grown up with each other," he says. Van Bennekom was very involved with The Gentlewoman's design initially, and still occasionally works on the cover or other aspects of the magazine – such as spreads – but otherwise the title is "mainly her design".
"I have to ask myself all the time: how involved and hands-on am I going to be in certain projects. Every day starts with making priorities," he says. Even if he were to work 14-hour days he knows he won't get it all done. So, to keep his head clear, "I'm closing the door much more on my time," he says: he gets to work at 10 in the morning after training, and goes home at seven.
In 2009, he opened the London office; he spends about 80% of his time here, and it now employs more staff than the Amsterdam one. The shift has made sense – aside from London being "more fun", a lot of the photographers he works with are based here; many of advertisers are too.
A magazine world of alternative or "left-field" magazines, "hardly exists in the Netherlands" despite a plethora of consumer titles. It's arguably this which inspired him to start making his own.
"If I'd had my education at Central Saint Martins, maybe I would not have started a magazine… or maybe I would've have but would have done it in a very different way – just because there is already an industry here; there is already magazines out where people could have a career."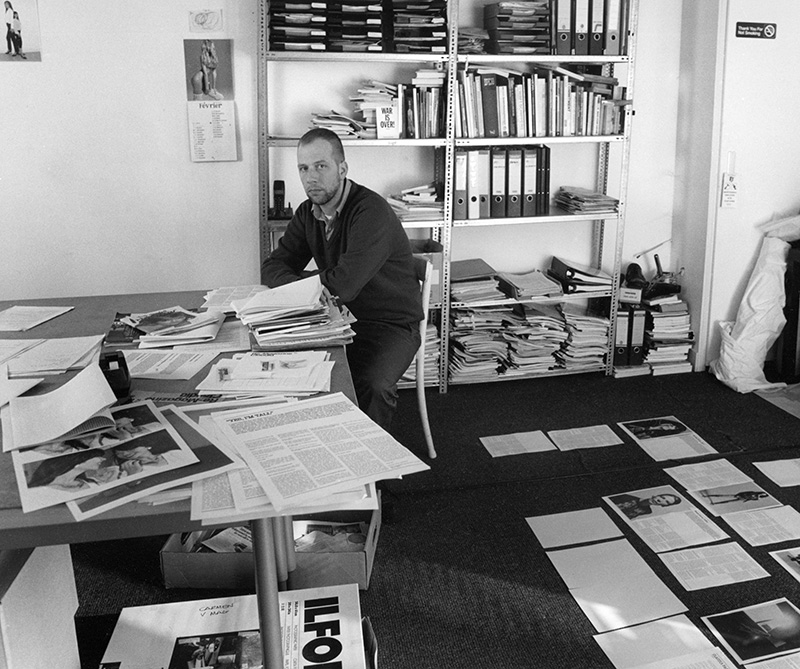 The first magazine van Bennekom and Jonkers founded together was BUTT – "a fantastic magazine for homosexuals" that they launched in 2001. Smutty and smart, its matt pink pages had none of the primped and Photoshopped polish of mainstream gay mags like Attitude and Out.
It was "very explicit in its nature, very direct – it's not like a luxury environment for someone to sell their bags, or something." And yet, while "the official gay world – if there is such a thing – found us a little bit intimidating… the fashion world loved it," he recalls.
When they ran out of money to print the magazine, they wrote to Tom Ford (who they knew was a fan), asking him to advertise. He agreed: Gucci took the back page. Other fashion brands were quick to follow: Helmut Lang, then Dior Homme and American Apparel.
"With a lot of things, a certain kind of success creates more success," he says. They were able to build on Butt's success when they launched Fantastic Man. Advertising support from fashion brands right the start was crucial – it helped that this industry "is wide open for change and very welcoming for new things, because that's also what fashion is about, I guess."
Van Bennekom believes editorial quality is key to achieving commercial success. While it's important to have a focus, and a point-of-view, it's also essential to work with good photographers and writers – to have "a clear language". "It's really easy to publish something that's rubbish. We put the bar very high for everything we do."
"We make magazines for ourselves and for our contemporaries," he says. "Our contemporaries could be a girl of 18, but also can be an old man of 79. I wouldn't say we make magazines for everybody, but I think our own filters are very defined."
"We only want to feature people that we like," he says. They avoid promotional stories – articles explicitly tied to the launch of a film or fragrance, for example. "It's always more interesting to talk to people at the moment who have nothing to sell rather than you getting the same interview that everybody has."
Unlike some magazines whose content is significantly influenced by business considerations, van Bennekom and Jonkers are "very editorial driven", featuring the things they want to feature. Sometimes this means doing stories "that don't link in with the season" or in which it can be difficult to feature advertisers. This builds credibility: Fantastic Man readers don't want to see a handbag from an advert being "promoted" a few pages later in editorial, he believes. It also gives the content a very personal and curated feel.
"[Fantastic Man] is, in a way, quite a different voice in the media landscape – a voice that doesn't talk to you as a consumer but as a contemporary," he says.
What are lessons he's learnt over the past decade?
"You need to work with good people." He pauses. "Everything I want to say sounds really clichéd – like you just really need to trust your instinct… you need to be in touch with the times. You need to consume quite a bit of media yourself."
"I'm more a newspaper person," he admits – he loves reading the New York Times's international edition, and devours "an awful lot of the New Yorker". He gets Apartamento occasionally, likes independent foodie mag The Gourmand and frequently buys Pin-Up (which is edited by one of his former interns).
Despite naysayers whining that print is dead, the past few years have seen dozens of new independent titles land on newsstands. I ask him if he thinks it will reach saturation point.
"I think there'll be more and more. And probably a lot of them will be short-lived – just because people need to find out a business model."
After issue five, "it becomes really tricky" – you've got to decide whether this is going to be part time or fulltime, and whether it's viable. "It's difficult to make money when you're a plant journal, for instance," he says.
He believes that labour is much more flexible than even a decade ago: a lot of people who have established small journals also freelance or run other small businesses on the side, making the creating of magazines more feasible than before. Crowd-funding sites like Kickstarter have also helped. "People are more business aware, I guess," he says.
When Fantastic Man launched, they used some of the earnings from Butt to finance the print run. They looked around for investors and someone to publish it (they believed they didn't have the know-how to do so themselves) but no one would commit. This meant that van Bennekom learnt a lot about the business of publishing – learning by doing. "I still sort of like it – a bit of spreadsheets," he says. "I grew up with the logic that if something's not right in the finances, then that reflects in the whole of the company."
In addition to Fantastic Man and The Gentlewoman, Jonkers and van Bennekom also produce the magazine of high street fashion brand Cos, as well as Penguin Books' The Happy Reader. The latter is the first time Penguin has published a magazine. The brief? "To get classic literature out of the dusty library and into the real world and inspire people again," he says.
"In a way it's a book club," he says. Every season, there's an essay about a book from Penguin Classics; and alongside this, there's a long interview with a notable reader; this quarter it's the turn of comedian Aziz Ansari; the issue before that had a conversation with muso Kim Gordon. Using humble newsprint and with book-sized pages, "it's a zine for literature," he says.
The aim is to create "something to dip into – an offline moment; a magazine that invites you to start reading books." That's an aim that at AERODROME, we can only but salute.