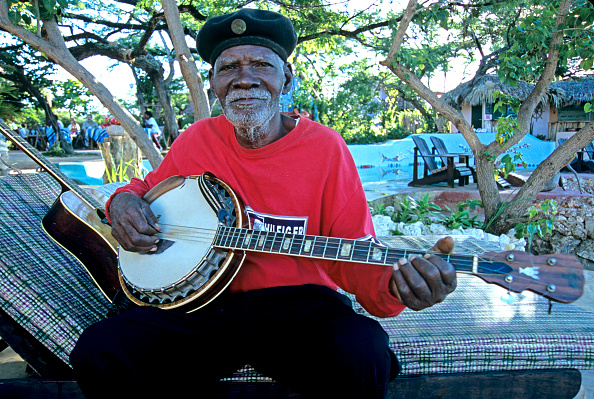 Caribbean Island is a fun, flavour-filled add-on to your itinerary if you happen to be visiting Central or North America
Less than an hour after touching down at Montego Bay, I was experiencing a rather startling sense of déjà vu. I had never been to Jamaica before — or to anywhere else in the Caribbean — yet I really felt as if I had.
We were zooming along in our rental car — a battered, rather ancient Mazda with surprising poke. It was hot, the air heavy with humidity and the smell of burning rubbish, bulbous clouds overhead. We were passing hand-painted signs, decrepit buildings, goats wandering willy-nilly amidst dense foliage. And then I realised: it felt just like tropical Africa! Parish names like "Saint Thomas" aside, it really did feel like I was in Mozambique or Tanzania.
We reached the somewhat desolate outskirts of Ocho Rios, a town on the north coast, fearing that we'd made a terrible mistake choosing this as a stopover. Fortunately, Hibiscus Lodge, which we'd found on a reservations website, was tucked off the main drag, right on the water's edge. With wooden panelled walls and period fixtures, it was fabulously dated, exuding a faded mid-century glamour. We settled down for lunch — a tasty, tender goat curry — on the shady deck. The bay curved beyond us, sparkling and calm.
Our room also had generous sea views. The communal pool, a few steps from our door, looked nice (and there wasn't a single soul squatting on a lounger) but instead, we headed down a set of staircases to the little sandy patch at the sea's edge. I climbed the steps into the clear, warm aquamarine water and turned on to my back, gazing up at the flecks of cloud scything the sky.
Dusk came quickly, and with it, the sound of bats. We wandered over to the restaurant for dinner and asked if we could sit outside, under the stars, at a table which hadn't been set. The server laughed at us and said dinner was only being served "here".
"Here" was a dank, claustrophobic concrete catacomb crammed with tables, ringing with the chatter of other diners. Defeated, we sat down, and then later tried again — asking if we can sit outside. We were rebuffed again.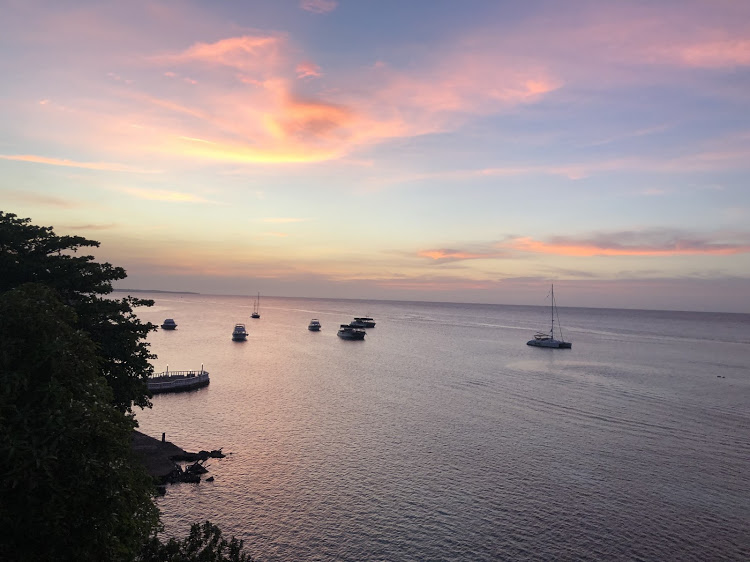 This interaction would come to sum up the prevailing service ethic in Jamaica: all too often, anything that involves slightly more effort than the bare minimum would be deemed unachievable.
It's no wonder a lot of establishments have a mandatory tipping policy — because service this slow, reluctant and inattentive wouldn't get much in the way of gratuities otherwise. At least the meal was tasty. I ate plantation rice (almost like a paella), featuring juicy prawns, bits of chicken and fish, in a light curry sauce.
The next day, we took an immaculate tolled highway that cut through the island's mountainous centre, depositing us near the capital, Kingston. Here we joined a smaller network of roads, each one seemingly more decrepit than the last. Unlike the lush jungle of the north, it was drier down here — more like savannah, with thorn trees rising above blonde grass.
We reached Treasure Beach, a sprawling village shared by large holiday villas and the humbler locals' houses. Our new home for several nights was Jake's Hotel — an agglomeration of quirky, colourful villas and rooms. Ours was about 20m from the sea. It had two easy chairs, but we preferred to sit closer, on our loungers, watching the waves crashing furiously against jagged rock right in front of us.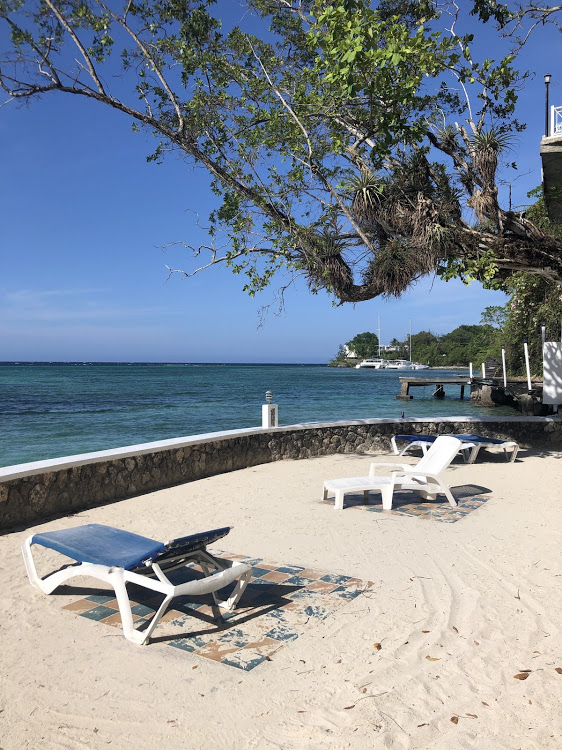 There is a lifeguard on duty during the day, so you can venture down a ladder to the little beach in front of the hotel; but the tree-covered pool, filled with fresh seawater daily, we found to be a more relaxing alternative. Next to the pool is Dougie's Bar. I hit upon a winner — the Mosquito Bite — and after my first sip, didn't bother to order any other cocktail. Try it at home: ginger ale, a shot of tequila, a shot of rum, and a dash of hot sauce all poured over ice. It'll make your neck tingle.
Jakes restaurant is so darn good, that we mostly ate there. Most of the ingredients are sourced from nearby farmers. The dishes are either Jamaican recipes or international favourites (such as pork pasta or burgers) given a Jamaican twist — with jerk, an exuberant mixture of herbs and spices, that are synonymous with the island.
For breakfast, I tried the mackerel run-down: a creamy, spicy stew with chunks of mackerel — mind-blowing and served with yam and festival (these are balls of deep-fried golden dough, rather like mini vetkoek).
We also ordered food at Jack Sprat, Jakes' laidback sister restaurant and bar: a jerk sausage and pepperoni pizza, as well as jerk crab. The latter arrived at our a room as a takeaway: the large crustacean resting in a pool of brown, fragrant sauce.
Armed with instruments a surgeon would be proud of, we proceeded to crack the pincers, teasing out the sweet flesh, and getting our hands repeatedly doused in sauce in the process. It was a lot of work, but delicious enough to make it worthwhile.
One day we decided to try elsewhere for lunch and headed out at noon. Birds of prey circled overhead — omnipresent and slightly ominous. We walked past shuttered holiday homes, and dry fields where cows stand in scraps of shade. A mongoose dashed through the dust — an African import brought here, apparently, to take care of the snakes. The heat and light were oppressive; we quickly became soaked in sweat. When we finally reached Great Bay, a nearby cove, an hour later, we sank into the milky green sea.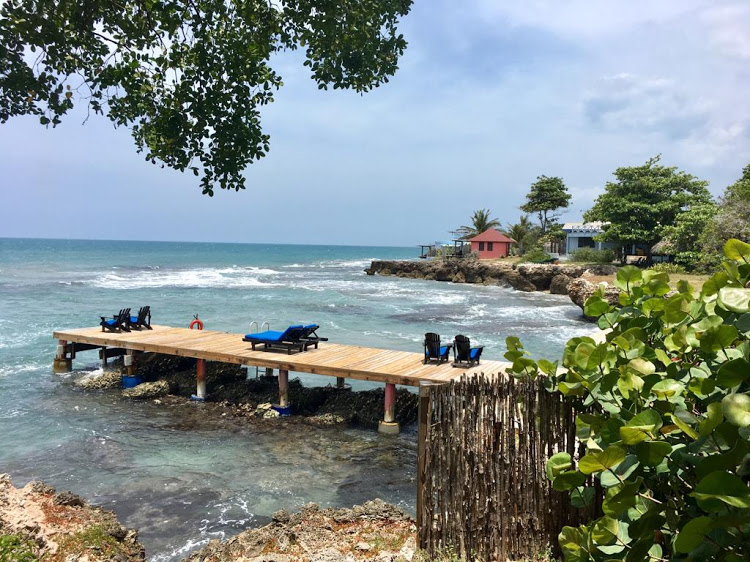 I headed into The Lobster Pot, a shack on the beach, to order, retreating to the shade with my first Red Stripe of the day. The ubiquitous local lager is rather bland and characterless, but if you have it when you're thirsty on a hot day, there are few things more sublime.
More beer, more swimming, while we waited. Finally, after about two hours, our meals arrived; a plate of subtle, salty snapper fish that fell away from its spine with each fork scrape. And conch — pieces of shellfish — in spicy, garlic sauce that we mopped up with festival.
Later, we hired a fibreglass boat with a measly outboard to take us on a river safari. As we glided through Black River town, about half-an-hour from Jake's, we spotted a crocodile on the bank — so stationary I was convinced it was plastic. The mangroves quickly surrounded us. Some were taller than houses, with roots descending from dizzying heights into the water. The effect was dense and as elegant as cursive; a forest that seemed to float.
We reached a narrower channel and the branches arched over us, a tunnel of green. A triangular snout rose ahead of us: another crocodile. The water was clear; the boatman pulled up a beaker of it to show us how clean it was. I still don't quite believe him but then he took us to a nook where the water' was shallower: there we see it, the dark, earthy bottom, visible metres below.
On the way back to Jakes, we stopped by the Pelican Bar. This rickety, ramshackle wooden structure rises out of the sea as implausibly as a mirage — erected on the reef by a fisherman as a watering hole for his fellow seafarers. There were no fishermen when we visited: instead, every horizontal surface seemed occupied by tourists.
We gingerly squeezed into a gap next to a gaggle of shrieking, leathery spinsters from England who were giddily imbibing cannabis and cheap whisky. It was a relief to flee, to make our way across the sea's stippled surface, which is glowing in the early evening light.
On our day of departure, Google Maps guided us along obscure byways towards Montego Bay's airport. We left the coast, climbing up into lush hills. The roads were potholed and narrow and winding, with foliage crowding in at their edges, making it impossible to know if we were about to smash into oncoming traffic. I proceeded slowly, hooting and praying. We arrived at the airport two hours later, relieved and a bit surprised that we'd got there unscathed.
While we waited for our flight, I was reminded of what the server at Hibiscus Lodge said when I told him it was my first visit to Jamaica. "What took you so long?" he asked.
Well, if you're South African, it's far away and expensive to get to the country — you can get tropical beaches and poor service a lot closer to home. Should you go all this way to visit the island on its own? Definitely not. But, if you already plan on being in central or north America anyway, then that's completely different.
With its abundance of feisty food, tropical beaches, cannabis galore and near-constant strains of Bob Marley on the breeze (I'm surprised the locals aren't completely sick of One Love by now) Jamaica will be a fun, flavour-filled add-on to your itinerary — guaranteed.