BY ALEXANDER MATTHEWS
Urban planner Tanya Zack and photographer Mark Lewis are behind Wake up, this is Joburg, a 10-book series of stories about people living in Johannesburg.
Mark and Tanya, tell me about your relationship with Johannesburg.
Tanya Zack: I have always had a passion for the inner city (I was raised in Bertrams so some of this may well be a cathartic interest). I have always lived in Johannesburg. But from around 2008 I had the opportunity through my work – doing research and policy – to work on some of the big issue areas of the inner city – such as so-called "bad buildings". My approach has been to try to understand the underlying conditions and causes of the challenges that face Johannesburg. Of course this sounds like and is policy speak but at a more personal level it is also true. I have become convinced that I need to spend more time in understanding and in diagnosing what I see in the city before I can hope to respond to it as an urban planning practitioner.
I started walking the streets of the inner city and I was overwhelmed with the excitement of it. I learnt so much, saw so much I didn't know existed in Johannesburg and also simply encountered these incredible experiences of interacting with people or of just watching.
Photography became a natural extension for me in the act of watching and I spent many months taking photos. This was also vehicle of access because each photo required conversation, and permissions and so I got talking to people. The next stage in this unplanned journey was the collection of stories. In some cases the stories popped up because I encountered them in my wanderings. In other cases I set out specifically to understand a specific activity or person life and livelihood in the city. For instance, I followed recyclers over a number of days and in some cases followed their stories over many months. Not every story is intended for publication. In fact most are just my personal encounter with my city.
Mark Lewis: I was born and schooled in Klerksdorp and then moved to Joburg where I lived in Yeoville and Berea. I then moved into the inner city and lived and worked in Jeppe Street and Wanderers Street from 1979 through to 1983.The city then moved to a very different soundtrack. I then left Joburg and only returned to live 3 years ago. My association with the city in the beginning was witnessed through a closed window in and out of Maboneng but I became increasingly excited by what I saw and was looking for an excuse to start walking and experiencing the newly occupied spaces. So my reintroduction to the city was largely facilitated by Tanya as we began trawling the streets for stories and I finally had found the excuse that I had been looking for.
How did Wake up, this is Joburg come about?
TZ: Mark Lewis and I found a common interest in the collection of stories as he has done a great deal of documentary photography and so we embarked on a conscious journey of collecting stories of Joburg. We are both taken with Johannesburg as a city of surprise and a city constantly in the making and in the remaking. It remodels itself, it changes uses, it attracts new people and it is constantly shifting in dramatic ways. This is most obvious in the inner city, where we have found many of our stories.
What do you hope the books will achieve?
TZ: We hope that an empathetic view emerges in the work – we certainly do try to understand quite closely what people's living and working conditions are and something of their personal stories. But beyond looking more closely and the huge privilege it is to get access to anyone's life to look that closely, we don't have a change agenda: we have a curiosity agenda. We really wanted to know about these things ourselves. We think other people may also find them interesting.
The stories and photographs come out of a curiosity and passion for the city and for knowing what "lies behind". For us, the exploratory journey allows us to learn something about people's intimate engagement with the city, often through making a living. It also allows us to take a closer look at spaces in the city, their use, their re-use and ordinary or unexpected aspects to these spaces. Perhaps these stories reveal something deeper about the city as it is today. There are layers in the telling and care is taken to illuminate a bigger story in each image. These are also layered. In terms of integrating communities etc. I have no such ambitions for my project. If we can alert people in Joburg to something that feels a little lesser known and through that inspire a greater affection for this city of possibilities we will have achieved a lot.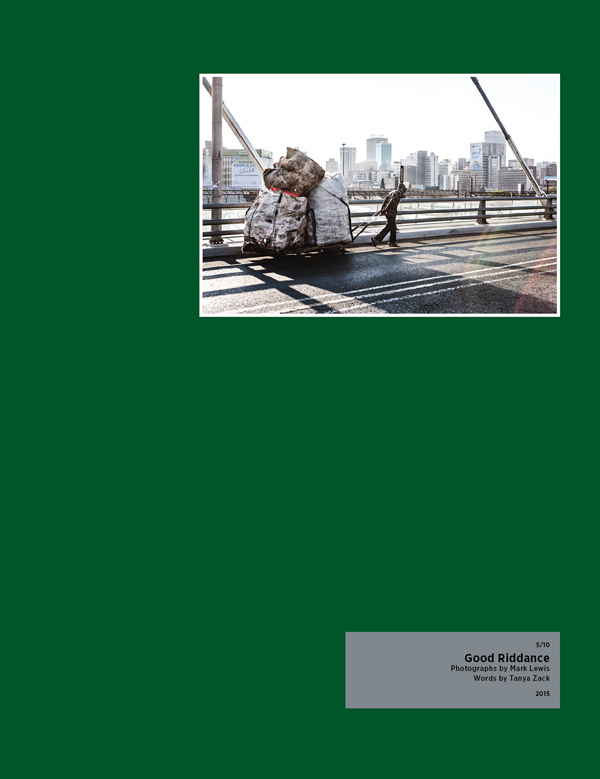 How did you find the stories you showcase, and how long does it take you to research, write and photograph each one?
TZ: We find the stories by trawling the inner city. We walk and drive and look. And of course we spend a lot of time chatting to people, scouting for ideas and possibilities. We brainstorm possible spaces and activities and we try. We follow these leads and some open up stories. The research takes many months and in some cases we are telling stories of people who we have interviewed and watched over several years. It is an enormous privilege to be allowed that much access to individuals and building up those relationships takes a long time.
For each of you, what was the most memorable moment from working on this project?
TZ: For me the most painful moment was a visit to the home of the protagonist in our Yeoville story, Inside Out, where so many of my preconceptions were turned up as the family was divided on whether or not to allow a portrait to be taken for the book. I learnt something deeper than I had ever understood about the agony and complexity of being migrant in Johannesburg.
The most joyous moment for me was an unexpected encounter with a reclaimer (whose story does not appear in the books yet) who fashioned his trolley into an army jeep.
The day we spent on the top of the landfill site where men were reclaiming from trucks and birds were swooping up amidst the waste and against the backdrop of the city was magical.
ML: For me it was the moment we walked into Kazerne to witness the chopping of cow heads (the first story). Firstly I had never seen such a thing and also the realisation that this journey was about to begin both with Joburg and Tanya.
What made you decide on the 10-book format, and are there plans to combine the books into a single one?
TZ: We thought we would create one book and proposed this to Fourthwall Books. Bronwyn and Oliver had just been at an international book fair and were inspired by the idea of individualised art books that are each beautiful artefacts that together make up a collection; the idea of 10 books was theirs. Each then is a single photo essay and each book allows enough space for a lengthy essay and rich displays of photographs. The photo book is an innovative format and allows the narrative and images to interplay well.
The first editions of the first three books published have sold out. We hope this reflects a demand for the work and we would like to create a composite book perhaps of larger format that really showcases the images and that could knit the stories together.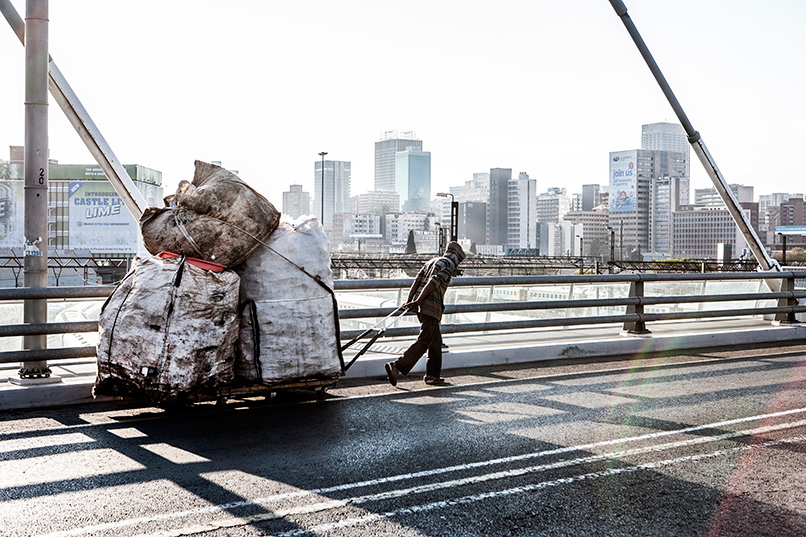 Together, the words and images tell the story. Explain how the collaboration process worked – did you work together, or do interviews and photography separately?
TZ: We work together. This is necessary because the whole process is entirely interactive – what we are seeing and what different angles we each notice in the tales we hear or the places we look at all combine into both what images will be chosen and what story we will weave.
Mark, what has been the greatest challenge when photographing this series?
ML: There has been no specific challenge other than the eternal challenge of representing what you see in a meaningful way that satisfies both me and the story.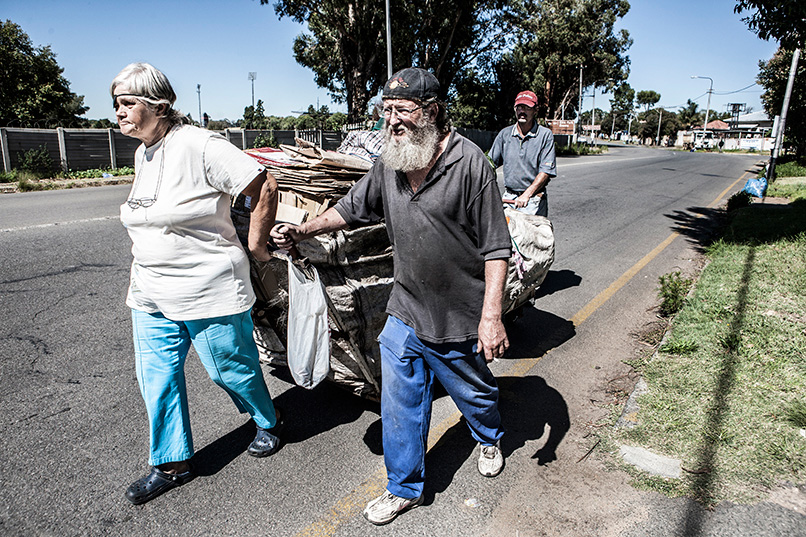 Why did you decide to make the text available in two languages?
TZ: The idea of translating the work came from Bronwyn Law-Viljoen who works closely with the Language School at Wits. Each story is translated into a language other than English, that matches the story. We have used Zulu, French, Portuguese and Sesotho in the books that have been published so far. The broadening of language broadens access but is also a tribute to the protagonists of our stories. The translator for Good Riddance commended Bronwyn for "leading from the front" in this initiative of translating the work.
A project like this involves intense research, preparation and execution. How did you go about funding this process?
TZ: The production of the books is very costly and they require external funding. We depend on sponsorship to cover some of the basic input costs and have had assistance from GIBS Business School and from IFAS for two of our books. But we are still trying to raise the funding to allow the further books to be published. Fourthwall has covered some basic costs and we have also committed our own monies to costs. To date our own input, research and photography, editing and layout has not been covered and has been a contribution that the four of us (me, Mark, Bronwyn and Oliver) have made to make the series possible. The sale of each book funds the future books.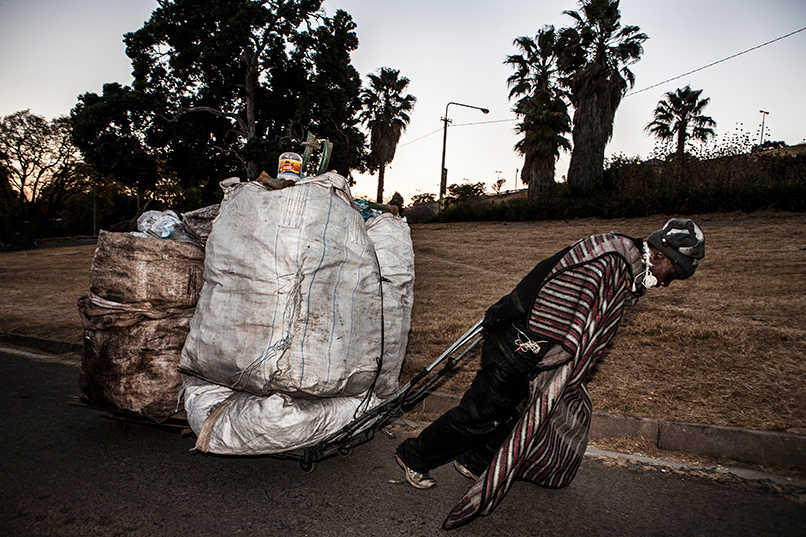 Good Riddance, the fourth book in the series, has just been published by Fourthwall Books.