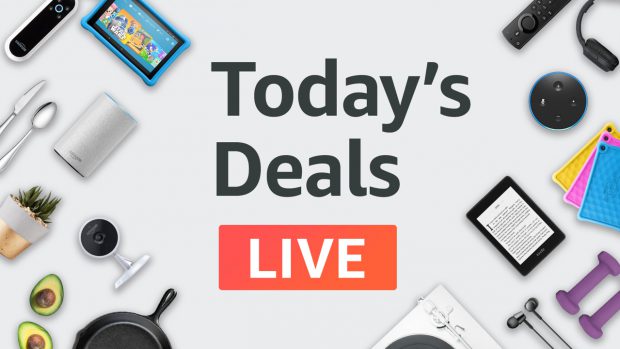 Last year, I wasted three hours of my life watching a teleshopping channel try to shift a middle-of-the-road budget smartphone as if it were the second coming of Jesus. Somehow 'not watching teleshopping channels' didn't manage to make my list of New Year's resolutions, because here I am in 2019 watching a woman pretend to be surprised by a light bulb.
But I'm not watching it on television: it's in a browser window, and specifically a browser pointed to Amazon.com. Yes, Amazon has launched its own teleshopping channel called Amazon Live, and you can tell the videos are live, otherwise this man would've managed to put the lid on a pressure cooker in one, seamless take:
...and somebody would definitely have told these two that joining in with a dancing robot was an idea best left in their heads.
As you can see from the clips above, this is actually quite a serious undertaking – though maybe not for someone who owns a $45 million clock. Still, you'll have counted at least six different presenters covering everything from smart home to business goods. On the Valentine's Day special, they even had singer Josh Groban as a special guest, and included a baffling version of Blind Date where the contestants had to win over the lucky lady with Amazon products. This sadly expired before I got a recording, but to prove it wasn't some mad fever dream, here's a screenshot I managed to get: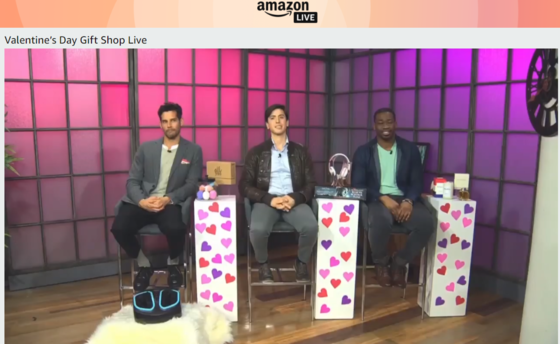 The point is that this isn't a low-budget endeavour, so the question is: why? When Amazon has had so much success doing things differently to high street shops, why is it suddenly aping the sales tactics of QVC and Ideal World?
Well, it's not the first time the company has tried. Three years ago, Amazon opened "Style Code Live", but closed it just a year later. QVC's chief executive Mike George has views on that: "You're not going to be inspired by Amazon," he told Bloomberg at the time. "Shopping should be joyful, it should be inspirational. That's what we can do."
Perhaps your definition of "joyful" differs wildly from Mr George's. Then again, perhaps it doesn't:
But I digress.
Finding academics that have ever studied teleshopping is, unsurprisingly, quite a tricky endeavour. But I eventually track down Dr Moira Cachia, a senior psychology lecturer at the University of West London who wrote her undergraduate degree on the appeal of teleshopping in Malta a decade ago.
"Back then when I was trying to think of a topic, the shopping channel had just started and I was studying for exams at home," she explains. "And I used to think 'my goodness, how could people watch this for hour after hour, day after day?' And that's what made my interest - to understand why."
Despite her aversion to the medium, Cachia does see what Amazon could gain from it, and it's surprisingly close to George's view. "Teleshopping is essentially about trying to imitate what the physical communities used to provide when you visited a shop," she says. "Life was much slower, so there was time to interact with the shopkeeper, there would be other consumers and they might say, 'oh, yes, I bought that for the other day and I've been using it and it's really really good'."
The idea of slowing down the process of online shopping might feel completely alien to Amazon – a company that until a couple of weeks ago would let you press a button to have Play Doh instantly shipped to your door – but Cachia thinks that it can catch a different kind of shopper to the usual one-click ordering impulse-buy junkie. "In a way, they are attracting more consumers because yes, you have those impulse buyers who simply can afford what they need when they need it, and they can do it at the click of a button, while also attracting those people that need some more time to think about it.
"When I did my research, teleshopping seemed to mostly attract the working class," she adds. "So the whole idea is that if they use these products, they will step up and have that social mobility."
But it's about more than just informing users: people can get surprisingly attached to the presenters – or at least, they could in Malta in 2009, and a larger study in Spain that reached similar conclusions. "When I conducted my research, I collected the data in person at the teleshopping outlet where people collected their stuff," she explains. "That's where I realised how they talk about the TV personalities as somebody they knew - like a family friend or something like that. They say things like 'oh I bought that before she had the baby', and it's like a privilege that she was coming into their kitchen and into their living room.
"It really interested me, because I don't relate to it at all."
Personally, I share Cachia's bemusement, but then I feel the same way about YouTube celebrities, and there's certainly a degree of overlap here. The most popular vloggers actually do a very similar thing to telemarketers, making viewers feel like friends and peers, despite their disparity in fame and reach. The overlap becomes even more blurry when you consider YouTubers as influencers, sponsored by brands to endorse products, and Amazon should have a pretty good idea of how to take advantage of this. It owns Twitch, after all, and can see first hand how viewers flock to their favourite personalities – even if Amazon Live has to maintain a certain family-friendly sanitised style in order to stay on brand.
There's certainly inspiration to be had there, although if usage hasn't changed since Cachia's paper in the 90s, there are other pitfalls to watch out for. "When I did my research, the highest percentage of the population watching was women from a working-class background because most of the teleshopping happened during the daytime," she explains. And while previous research showed that men would watch TV as a leisure act in itself, the women who enjoyed the shopping channels would have them on in the background when doing something else.
The behaviour suits television, but not so much a web browser, and even less so a smartphone. "I think with this channel, there's more of an element of proactivity from the user side then if it just came on TV while you were flicking the channels," Cachia agrees. Perhaps that means it's one for the Echo Show in the long run, then – although they'll have to stop the presenters saying the word "Alexa" if they don't want the experience to become entirely maddening.
Still, there is at least one pitfall that Amazon is likely to avoid. When writing her paper, Cachia had an informal chat with the Maltese shopping channel owner, who revealed that the company had two lists of customers: ones who tended to keep the products, and another who tended to send them back within the 15-day return window. Suffice it to say, the company was sure to ship its limited stock to the former customers first. When you're Amazon's size, stock problems simply aren't an issue.