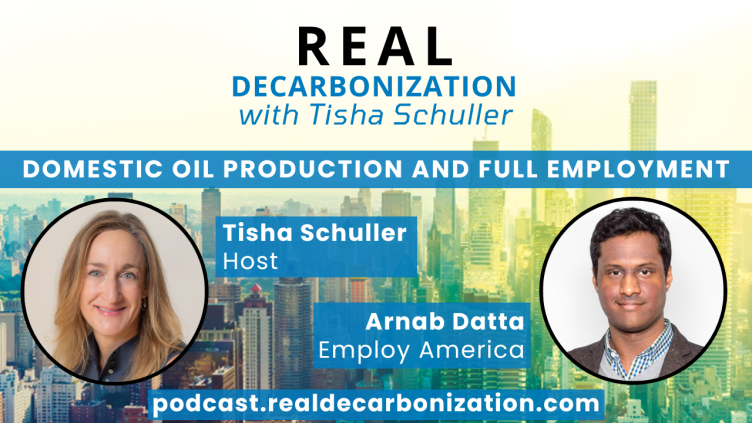 Making unconventional alliances is one of the secrets to disrupting the polarization that impedes real decarbonization. That's why I'm talking on this week's episode of the Real Decarbonization podcast with Arnab Datta, senior counsel at Employ America, about domestic oil production's vital role in reducing economic volatility.
I love finding novel left and center-left perspectives on the importance of domestic oil production. Arnab sees opportunities to advance real decarbonization priorities through strong domestic oil production and thoughtful deployment of the Strategic Petroleum Reserve. You don't have to agree with Arnab to see the value in engaging with him and other intelligent, unconventional allies.
A few of Arnab's insights
On creating price stability with the Strategic Petroleum Reserve: "To the extent that [the Department of Energy] can use the acquisition power to help producers produce more and invest without some risk of volatility, the more likely we are to unlock a lot of the production potential we have."
On the Biden administration's paradigm shift on domestic oil production: "In the short term, we can't just expect the oil industry to die; we can't just expect to keep all this in the ground. We need to keep using oil to some extent. We should be finding ways to do that responsibly and in a way that supports all kinds of communities and all kinds of positive outcomes."
On the Department of Energy's fixed-price contract pilot: "There will be oil producers who will see that the Department of Energy is earnestly trying to do something positive. Hopefully, they'll take them up on it. You'll see some energy—no pun intended—behind engaging in some of these contracts and boosting our production outlook."
Three ways you can activate
Learn about the many ways we will co-create the future with unconventional stakeholders. Contact us to order my new book, Real Decarbonization, in bulk, so your team is well equipped for the opportunities ahead.
Never miss an episode of the Real Decarbonization podcast—subscribe now.
For more guidance on building unconventional alliances for your company, reach out for a consultation with Team Adamantine.
To unconventional alliances,
Tisha