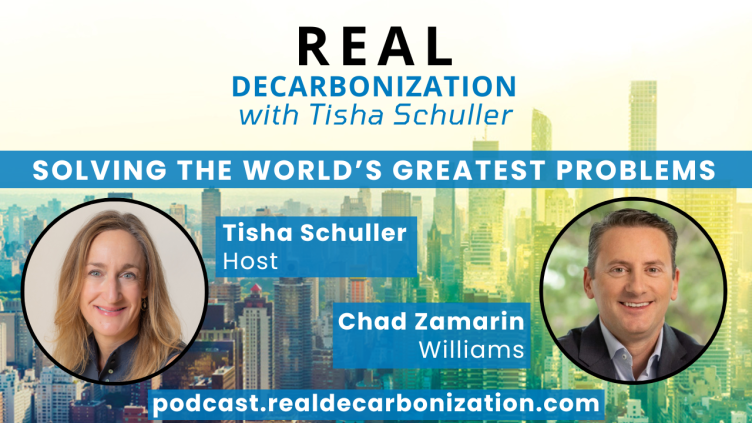 I love the infectious optimism of Chad Zamarin, executive vice president of corporate strategic development at Williams. And on the new episode of my Real Decarbonization podcast, Chad will make you optimistic about tackling real decarbonization as he details how a midstream company like Williams can engage in decarbonization at speed and scale.
One of Chad's main messages: Encourage members from across your organization to bring their ideas to the table. His optimism for engaging internal talent — old and new — to take on the world's greatest problems is great inspiration for the work ahead in 2023!
A few of Chad's insights
On Williams's investment principles: "We've got to invest in things that can get to scale; we want [to make investments] that are going to make a difference and can be a significant part of the solution going forward."
On infecting the organization with talent: "The mission for our New Energy Ventures team is not to create something different, nor build a different business unit; it's to build capabilities and opportunities that become a part of our core business."
On solving the world's greatest problems: "We've got to decarbonize the energy ecosystem, and there is no better way to do that than by leveraging [existing natural gas] infrastructure and combining it with the technologies and the energies of the future."
Three ways you can activate
Let's get your team to work on your 10-year strategy: Order Real Decarbonization for them by contacting us.
Catch up on all the mini-pods and subscribe if you haven't already. I've had the pleasure of speaking with other game-changing leaders for this fifth season of the Real Decarbonization podcast.
Reach out to us to get started: Adamantine can help your company maximize its talent to effectively participate in real decarbonization.
To taking on the previously impossible,
Tisha