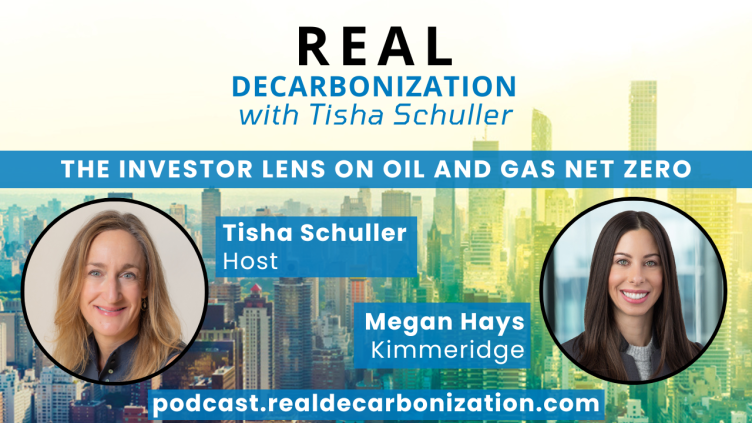 On this episode of the Real Decarbonization podcast, I speak to Megan Hays, who spent much of her career in industry and now holds an important seat in the investor space. As managing director at Kimmeridge, Megan translates investor priorities around decarbonization into required actions for oil and gas leaders. Among many other matters, she understands the importance of narrative and audience psychology in selling your ESG and real decarbonization strategy to the investment community.
A few of Megan's insights
On ESG's direction of travel: "Any period of extremes creates an opportunity, and the opportunity in front of us today is demonstrating a consistent approach to handling our environmental footprint. This approach focuses on the relationship between risk-adjusted returns and ESG factors."
On engaging with ESG skeptics as civic leaders: "Not only are we shrinking our environmental footprint, we are scaling up the technology to decarbonize beyond our value chain. What it takes to convince the skeptics is always going to be execution."
On telling the story of a 10-year real decarbonization strategy: "Transparency is key: We need to understand the inputs, the outputs, and the progress. Investors don't expect progress every single year; [as investors,] we understand there are going to be setbacks. It's all in how you package that narrative and unfold the progress for your stakeholders."
Three ways you can activate
It's time to develop your organization's decarbonization strategy. Contact us to order my latest book, Real Decarbonization, to guide your team's planning work.
Subscribe to the Real Decarbonization podcast to get practical insights via mini pod.
Wondering how to prioritize investor expectations? Reach out to Adamantine to hone your company's engagement practices.
To adjusting our focus,
Tisha