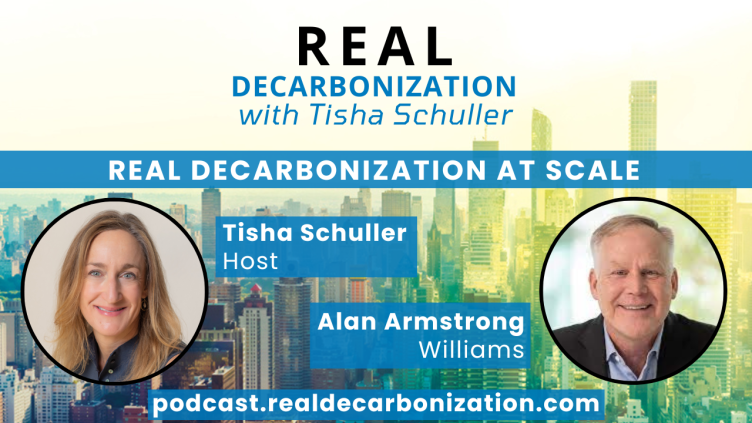 As president and CEO of Williams, Alan Armstrong runs a $65 billion enterprise — so his time and insights are always valuable. But I wanted to pick Alan's brain one more time for the latest episode of the Real Decarbonization podcast, because he has one of the best seats in the house when it comes to leading decarbonization action while running a business critical to our day-to-day life.
Our mini-pod conversation covers everything from geopolitics to novel technology for creating hydrogen from natural gas. You'll come away understanding how Alan thinks about investing pragmatically in real decarbonization at scale.
A few of Alan's insights
On challenges and opportunities: "We can't wait 20 years for new technology to get after it in reducing carbon. On the other hand, relying on sources that will continue to produce carbon for the long haul is not feasible either. We have really got to take it on from both angles."
On achieving real decarbonization: "Simple technologies that require a lot of different resources are not necessarily the answer for us. We are going to have to [decarbonize] at scale. Our industry knows how to do that, and we've got a new generation that's excited about it."
Three ways you can activate
Check out my 15-minute conversations with leaders making Real Decarbonization happen.
Last call to give my new book, Real Decarbonization, to your team for the holiday season! Let us know how many you need.
As you take on real decarbonization at scale, reach out to learn how Adamantine can guide your efforts.
We will be taking a little break for the holidays. Wishing you and yours a wonderful season.
Mission possible!
Tisha